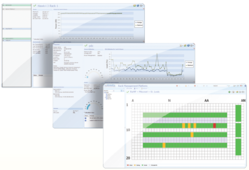 RaMP v2.0 provides true integration of data from both IT and Facilities, allowing data center managers to finally see the whole picture.
St. Louis, MO (PRWEB) January 11, 2012
No Limits Software announces the release and immediate availability of RaMP version 2.0. The latest release contains a number of enhanced features for managing and optimizing your data center. RaMP provides automated asset and change management, real-time monitoring, capacity planning and energy management.
RaMP eliminates manual data entry of IT assets by retrieving the detailed configuration data directly from the asset. RaMP utilizes multiple communication protocols – including SNMP, IPMI, WMI, WBEM, iLO, DRAC, ALOM, RSA and others – to gather and correlate the data. Rather than simply collecting "readily visible" data – typically name, manufacturer, model, location and serial number – RaMP collects detailed configuration information. For a server, for example, RaMP collects hardware information (processor, memory, physical and logical drives), services, network interfaces, operating system, installed software, hosts and more. You can add your own user fields, attach documents such as user manuals or purchase orders and search and report against one asset or a group of assets.
RaMP doesn't stop there, however. It utilizes a sophisticated analytics engine to determine the relationships between devices. It can automatically determine network and power paths, which virtual machines and services are running on which systems and, in some cases, even where a device is drawing its power down to the rack PDU and outlet. With the optional RaMP Gateway hardware, RaMP can even tell you where the asset is located, down to the rack U position!
RaMP's automated change management greatly reduces the time required to diagnose the cause of system outages. Studies have found that as many as 80% of outages are due to a change and that 80% of the mean time to repair is trying to determine what changed. By reviewing RaMP's automated change log, problem managers can recommend a fix to the problem over 80% of the time, with a first fix rate of over 90%.
New RaMP v2.0 features include the following:
-- Drag and drop support throughout the product to make it even easier to use
-- Blade chassis enhancements to support auto-placement of blades in the chassis
-- Energy monitoring provides PUE, DCiE and CADE energy management calculations
-- Device type roll-up views provide an easy way to quickly compare device performance
-- Enhanced rack views (device type, status, power usage, front and rear temperature)
-- Enhanced change management with expanded supporting infrastructure change views
-- Support for user-defined data fields and enhanced search capabilities
-- Link documents to assets, models or locations
-- Track data center tasks
-- Calculations of power usage at the rack PDU level without requiring an intelligent rack PDU
-- Enhanced alerting and alarming capabilities
-- Operating system and service pack management
-- Enhanced OS and software management to quickly find where software is deployed
-- Enhanced power view displays power chain from utility to device
-- Communication chain views at all IT devices
-- SSH monitoring support added
-- Optimized data analyzer
-- Enhanced visual data center editor makes it even easier to design and edit the layout
About No Limits Software
No Limits Software is a leading provider of data center management solutions, including asset and change management, capacity planning and real-time monitoring. No Limits Software provides a unique solution through the automation of asset and change management, including the discovery of the asset location down to the rack unit. The Rack Management Platform (RaMP) solution allows you to understand and more effectively operate your data center by managing both IT and Facilities equipment.
RaMP eliminates the need for physical audits, dramatically reduces the time to find and repair equipment, improves system availability and increases data center energy efficiency by providing accurate capacity planning.
No Limits Software solutions are fully scalable and all data is fully accessible via published web services API to allow you to easily integrate the solutions with your existing data center management platforms.
# # #