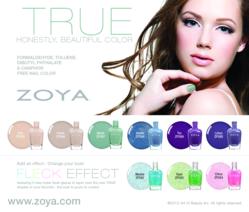 A stunning array of Spring Nail Color from the Color Experts at Zoya Nail Polish - sure to set the trend again...
Cleveland, OH (PRWEB) January 05, 2012
Introducing the True Collection by Zoya Nail Polish for Spring 2012
Honestly, beautiful nail color... http://www.zoya.com
A fresh bloom of dewy nail polish. Inspired by the runway looks of top designers this collection features slightly muted and unexpected spring shades in six easy to wear full-coverage cream and metallic finish colors.
Cho (ZP585): Vanilla shimmer metallic
Farah (ZP586): Latte beige cream
Bevin (ZP587): Pale sage green cream
Skylar (ZP588): Silvered slate blue metallic
Tru (ZP589): Gilded purple orchid metallic
Lotus (ZP590): Light lotus purple metallic
Also new at Zoya:
Zoya Fleck Effect - mylar fleck effect glazes
Zoya Nail Polish presents - three new sheer mylar fleck glazes (with just a hint of color tint) that can be worn alone or layered over the new Zoya True collection colors for a unique and beautiful nail look. Simply layer one of the new True shades, white, black or another favorite shade to create new and interesting nail looks.
Maisie (ZP582): Blue tint with mylar green fleck
Opal (ZP583): Green tint with mylar green fleck
Chloe (ZP584): Pink tint with mylar green and gold fleck
Sug. Retail $8.00 per 0.5 fl.oz. bottle (US)
Shipping January 10, 2012
Find Zoya True & Zoya Fleck Effect as well as over 300 other ultra high-fashion Zoya shades at Zoya.
Did you know that Zoya names all of it's gorgeous nail polish colors after women? It's true - from the beginning Zoya company founder, Zoya Reyzis and her team of color experts, have been naming colors after women who inspire.
Long-wearing Zoya Nail Polish and Treatments are formulated vegan friendly and toxin free - no formaldehyde, toluene, dibutyl phthalate or camphor.
Zoya is the new color of fashion.
http://www.zoya.com
###