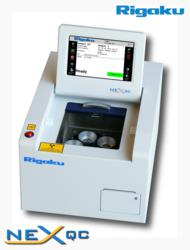 Austin, Texas (PRWEB) January 05, 2012
Applied Rigaku Technologies, Inc. has announced an efficient reliable new method for the analysis of copper oxide in treated lumber. The new method is detailed in application note #1141 and demonstrates the use of the Rigaku NEX QC benchtop EDXRF analyzer in the measurement of CuO in treated wood and wood treatment solutions.
Lumber treated with copper or copper oxide is used in a wide range of residential and commercial construction projects. As larger micron-scale particles do not sufficiently penetrate the wood, micronized preservatives use nano particles of copper oxide. Energy Dispersive X-ray Fluorescence Spectrometry is shown to provide a quick, simple and reliable means of analysis for use throughout the quality control process, ensuring the proper balance of treatment solution and yielding high quality while minimizing waste and eliminating excess expense due to treatment usage or product rejection.
The Rigaku NEX QC analyzer is shown to be an excellent tool during the QC process in producing treated lumber, giving the production process an affordable means of optimizing quality and ensuring product retention, while minimizing costs and reducing waste.
A copy of this report may be requested at: http://www.rigakuedxrf.com/edxrf/app-notes.html?id=1141_AppNote
About Rigaku
Since its inception in Japan in 1951, Rigaku has been at the forefront of analytical and industrial instrumentation technology. Rigaku and its subsidiaries form a global group focused on life sciences and general purpose analytical instrumentation. With hundreds of major innovations to its credit, Rigaku and its subsidiary companies are world leaders in the fields of small molecule and protein crystallography, X-ray spectrometry and diffraction, X-ray optics, as well as semiconductor metrology. Rigaku employs over 1,100 people globally and its products are in use in more than 70 countries – supporting research, development, production control and quality assurance activities. Throughout the world, Rigaku continuously promotes partnerships, dialog, and innovation within the global scientific and industrial community.
For further information, contact:
Scott Fess
Product Manager
Applied Rigaku Technologies, Inc.
tel: +1. 512-225-1796
info(at)RigakuEDXRF(dot)com
###