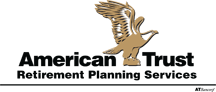 "Our constant client care and communication have enabled many participants to make important contributions to their financial future despite the troubled economy."
Dubuque, IA (PRWEB) January 05, 2012
American Trust Retirement Planning Services, for the fourth consecutive year, was ranked among the top 10 retirement plan providers nationwide and designated "Best in Class" by PLANSPONSOR Magazine, published in November 2011 by Asset International, Inc. The publication is geared toward employment executives charged with providing income and benefits to retirees through investment.
The rankings are based on qualifying results from approximately 50,000 survey questionnaires the magazine sent between late June and late August 2011 to defined contribution plan sponsors in its database and client lists provided by plan providers. A total of 6,885 usable responses were received.
Across all market sizes (less than $5 million to greater than $1 billion in plan assets) American Trust Retirement Planning ranked number two nationally in average employee participation rate at 80.7%, topping such national providers as MassMutual, Fidelity, The Hartford, Principal, ING, and John Hancock. American Trust ranked number four nationally in the percentage of clients with relationships greater than seven years, and ranked number six nationally for plan providers extremely likely to recommend American Trust Retirement Planning at 84.1%.
Letter grades were assigned to the cumulative participant and sponsor services scores, with "A+" scores for 96 to 100%. In the "Small Market, $5 Million to $50 Million" category, American Trust Retirement Planning earned an "A+" grade at 97.5% and earned 10 "Best in Class" awards in 10 sponsor services categories. American Trust also earned an "A+" grade at 97.9%, and 12 out of 13 "Best in Class" awards in the participant services category. American Trust ranked number one in average participation rate in the "Small Market."
"We're extremely proud to have earned the number one participation rate ranking in the small market and the number two participation rate ranking across all market sizes," said Kurt Wedewer, American Trust executive vice president and division manager. "During these turbulent times, our employee participation rates are a meaningful indicator of the quality, dedication, and commitment to our plan sponsors and their employees provided by American Trust's retirement planning experts and professional support staff," he added. "Our constant client care and communication have enabled many participants to make important contributions to their financial future despite the troubled economy."
According to PLANSPONSOR Magazine's web site, with a circulation of more than 35,000 and readership over 110,000, the magazine's goal is "to help plan sponsors design the best retirement plans and put in place winning investment strategies, through service-oriented articles that stress objective analysis and pragmatic solutions. Readers range from those who oversee very small plans with several million dollars in assets to giant public funds with tens of billions of dollars in investments." PLANSPONSOR Magazine has served retirement plan sponsors since 1993, and it is considered to be the premier monthly publication reporting on the pension industry.
American Trust Retirement Planning Services is a division of American Trust & Savings Bank, which is a subsidiary of ATBancorp, Inc., a $943 million bank holding company headquartered in Dubuque. American Trust has 10 full-service bank offices in the Iowa communities of Dubuque, Dyersville, and Farley, and an office in West Des Moines at 9350 University Avenue. It also offers retirement planning and wealth management services with an office in San Mateo, California.
###