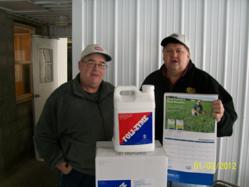 Steinhurst Farms' compelling story is reflective of what a lot of progressive farmers across the nation are experiencing.
Creston, Ohio (PRWEB) January 04, 2012
StollerUSA, the leader in plant performance technology, recently announced John Steiner of Steinhurst Farms as the 2012 StollerUSA Calendar Contest Winner. Steiner started using Stoller's Bio-Forge® and Foli-Zyme six years ago and continues to rely on both for improved yield and quality.
John Stiener owns Steinhurst farms with his two nephews Kurt and Eric. The farm includes 1200 acres on 700 owned and 500 rented acres. Their herd has a RHA of 31,000 pounds per cow on 3X milking schedule. Located in Wayne County Ohio the Steiners are 6th and 7th generation dairymen.
While traditional practice calls for one alfalfa acre per cow to provide ample forage, Steinhurst Farms is able to feed their entire 430-herd on just 230 acres. With Stoller's Bio-Forge and Folizyme they notice thicker, healthier alfalfa crowns after each treatment. Steiner adds the Stoller products right into the sprayer tank with insecticides that are applied after each cutting.
"We are impressed with the increase of forage tonnage and quality when using Stoller products," stated Steiner. "We have a tight cutting schedule and we need our alfalfa stand to be hearty and robust. Innovative products, like Stoller technology, help us increase the efficiency and profitability of our operation." Steiner also sells wheat, soybeans and corn and raises all of the farm's own feedstuffs. He noted that maintaining high soil fertility and crop health is a must, especially when grain prices are high.
StollerUSA's General Manager, Dr. Wayne Smith agrees stating, "We were pleased to select John as our 2012 winner. Steinhurst Farms' compelling story is reflective of what a lot of progressive farmers across the nation are experiencing. Improved crop health that comes with Stoller technology translates into a better bottom line. We understand how important it is for farmers to get the most out of each acre, and we design products that to do just that."
In order to win the contest, Steiner sent in his story and photos of his alfalfa crop. Steiner received the $500 grand prize and was a featured farm in the 2012 Real Farmers. Real Results. StollerUSA calendar. Learn about StollerUSA's annual calendar contest here: http://www.stollerusa.com/calendar.
StollerUSA is dedicated to helping producers enhance yields by maximizing genetic expression. The result is enhanced marketable yield, improved return-on-investment and improved tolerance to disease and other stress. Only Stoller products contain Stoller's proprietary technology that is proven to ensure optimum plant growth by maintaining appropriate hormone balance in combination with supporting nutrients. Validated by Universities nationwide, Stoller's unique formulations result in healthier, more productive crops that are better able to withstand stress and achieve their full genetic potential.
About StollerUSA
Celebrating 40 years in agribusiness, StollerUSA markets a full line of products to help farmers increase crop yield and quality. StollerUSA, headquartered in Houston, is actively engaged in basic and practical research to enhance crop productivity in more than 50 countries.
###