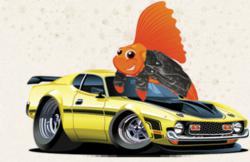 Using lecture as a method of teaching became obsolete when Gutenberg invented the printing press.
(PRWEB) January 03, 2012
RoadFish.com Men's Financial and Lifestyle Magazine released commentary today on why there should be more school closings. Recently the news have been full of school closures due to weather.
RoadFish.com's editor decided to use the current attention in the news on the school closures as a springboard for bringing up the fundamental underlying laws of our educational system. In RoadFish.com's proclamation they point out fundamental correctable flaws such as the archaic way information is transmitted from a teacher's mind through her mouth into the student's ears onto the student's paper. Editor of RoadFish.com is quoted as saying, "Using lecture as a method of teaching became obsolete when Gutenberg invented the printing press. In today's world of iPads, iPhones, and (god forbid) photocopies there is absolutely no reason for information to be transferred from one person to another verbally. The only reason to do this is purely for entertainment value or theatrics as frosting on the cake and is generally absent and absolutely not required in education. If you absolutely need theatrical performance as part of the educational process then a video in an IMAX theater for the students will deliver the same information just as dramatically at a far lower cost. Furthermore, bad education and lack of teaching students crucial life skills is destroying America's credit history and producing young adults that don't know how to manage their bills, balance their checkbook, and generally survive on their own."
When bad weather slows down students from arriving at school it spotlights just how much time, energy, and money is spent on moving bodies to and from school, housing, feeding, and disciplining them there. The purpose of school, in the opinion of RoadFish.com, is to enlighten students on the materials not to indoctrinate them or give them an entertainment performance.
Much of RoadFish's proclamation is echoed by Mark Phillips, who is professor and emeritus of San Francisco State University. He wrote his predictions for 2012 which included a continued emphasis that will become stronger and stronger on the fundamental ability of students to be able to read well and comprehend what they have read. He predicted that students would self-rate the internet as their primary source of information.
About RoadFish.com
RoadFish.com is an online men's magazine targeted toward men in their 30's and 40's that have already attained a moderate level of success in life, and are striving toward more. It goes over current events of interest to this group, such things as personal finance, ways to make more and save more money, dating, and current events. It is a publication owned by Purpose Inc.
###