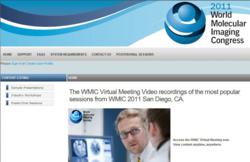 The demand for what WMIS offers is surging.
Herndon, VA (PRWEB) January 04, 2012
World Molecular Imaging Society (WMIS) is announcing its first online portal which features the entire conference presentation videos, abstracts, workshops, and plenary sessions. Now, at the click of a button and right from their homes and offices, subscribers can enjoy the entire presentations and watch the speakers deliver them.
WMIS's World Molecular Imaging Congress 2011 was held in San Diego. Nearly 1800 people attended the event. "Now the entire conference is available online for anyone interested in benefiting from the quality presentations and state-of-the-art research - which have become the most prominent features of WMIC." said Kim Pierce, Executive Director of WMIS.
Commenting on the reasons behind making the meeting available online, Dr. Juri Gelovani, President of WMIS said "The demand for what WMIS offers is surging. With the emerging prospects and explosive international growth of the molecular imaging industry and the associated research, our members and participants want us to provide year-round and global access to the quality programs of WMIC. WMIS is the only society that has the intellectual depth to deliver on the promised innovation in molecular imaging and now that innovation is conveniently accessible by all."
The portal can be accessed by clicking here
WMIS is the world's most innovative and leading society in molecular imaging and molecular medicine. With the rise of the molecular imaging industry and the associated research, WMIS is the only organization that is connecting all the dots in the industry and is working to bring all stakeholders together by Smashing the Silos and Leading Innovation Convergence in molecular medicine; both for practitioners and researchers, who are defining the future of molecular imaging, WMIS enhances the potential and applications of innovation.
WMIC is the world's most innovative, science and technology led, event. It brings the world's top molecular imaging scientists, technology experts, researchers, and business leaders together to define the future of the molecular imaging field. As the most exciting event in the field, it attracts participation from across the entire value chain of molecular imaging.
WMIC 2012 will be held in Dublin, Ireland on September 5-8th, 2012. It is expected to be a power-event that will attract companies and institutions from Europe, Asia, Middle East, and Eastern Europe.
###