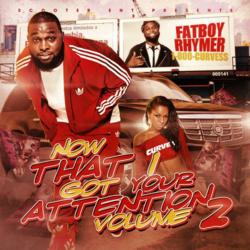 Miami, FL (PRWEB) January 04, 2012
Hip hop artist Fatboy Rhymer recently released his mixtape "Now That I Got Your Attention Vol. 2." Coast 2 Coast Mixtapes presents the project in association with Scooter Ent. It is now available for free download. "Now That I Got Your Attention Vol. 2" features Fatboy Rhymer on tracks with guest artist appearances from Desloc, YD, Lil Kee, Young Breed, Vido No Shake, Yung Trap, DJ Lil Boy, and JW. Production credits include Midus, Snatch & Grab, Razor, Beast Mode, JSmooth and Todd Hill.
Fatboy Rhymer is a full time artist and CEO of Scooter Entertainment, named after his deceased cousin, in Miami, Florida. Rhymer is currently on tour in the State of Florida and rapidly expanding his market across the East Coast and Midwest, performing his dance-style music. Rhymer performances can be described as a super horsepower lyrical vehicle speeding through the crowd in a full-throttle hype manner, keeping the crowd crunk and dancing. His mixtape, Now that "I Got Your Attention" mixtape volumes 1 and 2 have been released, he has realized where he's been and where he is going as an artist. He believes his mixtapes and future projects will win him the notoriety that is demanded by the depth and quality of his songs.
A Florida boy who grew up in Miami, Rhymer began DJing in his early teenage years for his classmates at Cash City High School. He gained his experience at house parties, block parties, and underground parties around the city as an in-demand DJ. Rhymer explains, "I developed the name "DJ Rhymer – the Mouth of the South" as a DJ because of how I maintained and controlled the crowd with my unique ways to keep the crowd crunk. As an artist, I developed the name 'DJ Fatboy Rhymer' for my lyrics, stage performance, and how I kept the crowd dancing and wanting more."
"Now That I Got Your Attention Vol. 2" is now available for free streaming and download at http://coast2coastmixtapes.com/mixtapes/mixtapedetail.aspx/fatboy-rhymer-now-that-i-got-your-attention-vol-2.
# # #