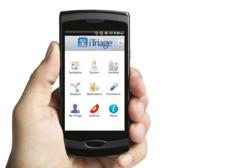 As more people turn to their mobile phones to access healthcare information, it's crucial to provide them with the resources to make an informed decision at their time of medical need
Denver, CO and San Antonio, TX (PRWEB) January 04, 2012
Texas MedClinic today announced that they are reaching out to the growing mobile market through a partnership with iTriage® – a one-stop health app that lets users learn more about a medical condition and find the closest location for treatment.
According to the latest Nielsen statistics, nearly 40% of Americans own a smartphone, and the number of people using mobile devices to access information online is growing daily. iTriage is available as a free download from app stores for iPhone® and Android™ devices and is also accessible from any Internet-enabled device at http://www.iTriageHealth.com.
Launching the iTriage application at their 11 San Antonio area clinics allows Texas MedClinic to provide patients in the community with the resources to quickly make the most informed decision regarding a medical condition when unexpected injuries and illness occur. iTriage also lets users do the following:

Learn about possible causes and treatment options
Obtain medication information for treatment of a specific condition
Find specific TexasMedClinic information like services provided, hours of operation, and turn-by-turn directions using GPS capabilities
"As more people turn to their mobile phones to access healthcare information, it's crucial to provide them with the resources to make an informed decision at their time of medical need," said Dr. David Gude, chief operating officer. "Our partnership with iTriage reinforces our mission to provide the most up-to-date technology and healthcare access to the members of our community."
About Texas MedClinic
Texas MedClinic is a group medical practice specializing in Urgent Care, Occupational Medicine, Sports Medicine and Travel Medicine. Established in 1982, Texas MedClinic has grown to eleven urgent care clinics in San Antonio, one in New Braunfels and two in Austin, TX. All Texas MedClinic locations have a physician on duty at all times and are open from 8am to 11pm seven days a week, on a walk-in basis. For more information, visit http://www.texasmedclinic.com.
About iTriage
Headquartered in Denver, CO and co-founded by two emergency medicine physicians, iTriage offers a unique Symptom-to-Provider™ pathway that empowers patients to make better healthcare decisions. iTriage helps people answer the two most common medical questions: "What condition could I have?" and "Where should I go for treatment?" Millions of consumers around the globe have downloaded iTriage on their mobile devices and thousands of healthcare providers use iTriage to reach and communicate critical facility and service information to patients. For more information, please visit http://about.iTriageHealth.com.
###