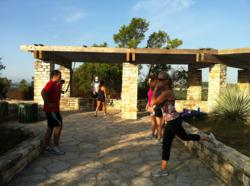 "No one seeking to improve their health should be denied access to the education and resources to do so" Joanne Blackerby
Austin, TX (PRWEB) January 05, 2012
After over 20 years quietly operating as a private fitness training and consultation company Joanne Blackerby opens Spirit Fitness Training's doors to the greater Austin community. Blackerby's drive to offer quality fitness programs accessible to all motivated her to spread her wings and open one of the most vanguard fitness training studios in Austin, Texas.
Bigger is Not Always Better
Spirit Fitness Training opened its doors in direct response to high volume boot and group programs. Blackerby says, "I see boot camps and group workouts with so many participants at one time, it seems impossible that these people are being trained safely. I cringe at the injury they risk and all these people paying money and devoting time to programs that are not always well balanced. It seems the bigger the program, the more people feel it must be effective." Joanne Blackerby believes it is a classic example of the "herd" mentality, "if everyone else it doing it, it must be a good idea" thought pattern.
"I am tired of seeing and hearing about how people are fleeced by the fitness industry. Whether by an amazing new product, fitness device or training regimen. Fitness is not smoke and mirrors. There are no magic workouts or products that will improve your conditioning. There are only effective workout regimens with effective trainers. I believe that offering clients fitness training rooted in education and personalized attention at a fair price will lead to the client's adherence to an exercise program and loyalty to the gym community. It's the old 'teach a man to fish adage'."
Blackerby says, "Very few participants understand the regulations of the professional fitness industry and fail to ask if the instructors and trainers maintain national certification. If the trainers are not nationally certified and experienced in movement assessment and movement execution, the client's functional fitness may not improve at all. The individual's experience of wellness, pain free movement, fluidity of motion in daily life, may be at risk.
"I work hard for my national certifications-not just to accquire them, but to maintain them as well. A certification is a constant process requiring credential renewal every 2 years and that means you must keep educating yourself. I just had to do something, It was either work for change or retire and I am not ready to stop training," says Blackerby.
"The 1.6 billion dollar fitness industry is highly competitive. It is hard, especially in this economy, to find clients able to pay for a "luxury" like fitness training. Fitness is no longer a luxury, it is a necessity to health.
"To change fitness training, you have to change the trainers and the way they view their roles and responsibilities to their clients.
"Our trainers are not battling each other for clients and our clients benefit from the skills, expertise and knowledge of all our trainers in a comfortable and noncompetitive environment. They clients learn from us and we all learn from each other.Our trainers don't hide behind clipboards counting reps and they are not performers, they are educators," says Blackerby. "We work as a team and the results are amazing."
The facility specializes in planned, progressive and periodized small group training. Working with some of the most effective training tools on the market: TRX, ViPR, Bodyweight Regimens and other functional fitness tools. Groups meet a minimum of four times a week and all groups work with all trainers. Client Carrie Crowley says, "I have had other gym memberships. I choose to come to Spirit Fitness because of the community. My workouts are taken care of. They are never the same old thing and I am able to work with all the trainers at Spirit Fitness - I just show up and they take care of my workout week - I know my time here is fun and effective."
"No one seeking to improve their health should be denied access to the education and resources to do so," says Blackerby.
Accordingly Spirit Fitness Training has a "Village Program" with sliding scale rates for membership and training. According to Blackerby, "When you teach people, when they understand they are doing and why they are doing it and when they able to see the results of their efforts, they are more likely to adhere to their fitness programs. Education and adherence builds a sense of familiarity and support .Clients are more likely to come to the gym, motivate and support each other thus the community grows. The key is to teach and empower clients so they choose to make permanent changes in their lifestyles."
###