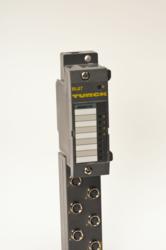 "The combination of both voltage and current analog signal types in one module provides users with unique I/O flexibility."
Minneapolis, MN (PRWEB) January 05, 2012
TURCK announces the release of its new 4AI4AO-VI analog I/O module, which is compatible with two of the company's BL distributed I/O products: BL67 and BL Compact system. Featuring four analog inputs for current or voltage and four analog outputs for voltage, the module provides both control and feedback in one convenient package.
The 4AI4AO-VI is designed for use with TURCK's BL67 modular I/O system and BL Compact system. BL67 combines all of the flexibility of an in-the-cabinet I/O system with modularity, ruggedness and connectorization, while the BL Compact system is a revolutionary on-the-machine solution that obtains and transmits signals via diverse fieldbus protocols, without requiring a protective enclosure. Supporting both M8 and M12 I/O connectors and offering compatibility with a variety of communication protocols, such as Ethernet/IP, DeviceNet, CANopen and Modbus TCP, the BL family provides a high degree of I/O versatility for a wide range of applications.
"The combination of both voltage and current analog signal types in one module provides users with unique I/O flexibility," said Don Eichman, Product Specialist for TURCK. "The signal duality of the 4AI4AO-VI, which merges control and feedback functions into a single I/O card, and its compatibility with our already versatile BL family allows our customers to increase overall efficiency, reliability and accuracy for any I/O application."
For enhanced application compatibility, the 4AI4AO-VI is ruggedly constructed to withstand diverse environmental challenges. Operating in temperatures ranging from -40 to 70 degrees Celsius, rated to IP67 and UL listed, the module provides optimal performance in applications that yield extreme temperatures, moisture, shock or vibration—accommodating even the most demanding application requirements.
TURCK is an industry leader providing superior quality sensing, connectivity and network products to help manufacturers improve their automated processes. For other TURCK product or technical information, contact:
1-800-544-7769 • http://www.turck.us • usa(at)turck(dot)com
###