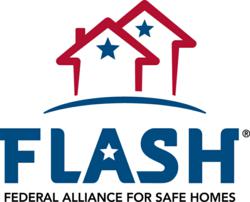 The Federal Alliance for Safe Homes (FLASH) has compiled these life-saving tips for preventing house fires resulting from the use of portable space heaters.
Tallahassee, FL (PRWEB) January 04, 2012
It finally feels like winter and, as cold winter weather sets in across the country, many families are using portable space heaters to keep warm. Because more than half of all fire-related deaths result from items catching fire when placed too closely to heat sources like portable space heaters, the Federal Alliance for Safe Homes (FLASH) has compiled these life-saving tips for preventing house fires resulting from the use of portable space heaters.
Electric Portable Space Heaters

Read the Labels
Purchase a space heater with modern safety features such as an automatic shut off in the event the heater is tipped or turned over.
Buy only electric portable space heaters that have been tested and labeled by a nationally recognized testing company such as Underwriter's Laboratories (UL).
Location, Location, Location
Keep the heater at least three feet away from drapes, furniture or other flammable materials.
Place the heater on a level surface away from areas where someone might bump into it and knock it over. Be mindful of keeping children and pets away from the heater.
Place electric space heaters only in areas where they can be plugged directly into the wall outlet. If an extension cord must be used, make sure it is a heavy duty cord marked with a power rating at least as high as that on the label of the heater itself.
Keep electric heaters away from water. Never use them near a sink or in the bathroom.
Never leave a space heater unattended or running while sleeping.
Gas-Fueled Portable Space Heaters
Carefully follow the manufacturer's fueling instructions using only the approved fuel. Never use gasoline. Never fuel a heater that is still hot. Do not overfill the heater; allow for the expansion of the liquid. Only use approved containers that are clearly marked for that particular fuel and store them outdoors.
Have vented space heaters professionally inspected every year. If the heater is not vented properly, not vented at all, or if the vent is blocked, separated, rusted, or corroded, dangerous levels of carbon monoxide (CO) can enter the home causing sickness and/or death. CO also can be produced if the heater is not properly set up and adjusted for the type of fuel used and the altitude of the home in which it is installed.
These and more valuable winter preparedness tips are available from the FLASH Great Winter Weather Party, a fun, new family-friendly website and social media campaign aimed at better preparing families and their homes for winter weather hazards. Visit http://www.greatwinterweatherparty.org for more information.
About FLASH
Federal Alliance for Safe Homes (FLASH)®, a 501(c)3 nonprofit organization, is the country's leading consumer advocate for strengthening homes and safeguarding families from natural and manmade disasters. FLASH collaborates with more than 100 innovative and diverse partners that share its vision of making America a more disaster-resistant nation including: BASF, Federal Emergency Management Agency, Florida Division of Emergency Management, The Home Depot®, International Code Council, Kohler Power Systems, National Weather Service, RenaissanceRe, Simpson Strong-Tie®, State Farm®, USAA® and WeatherPredict Consulting Inc. In 2008, FLASH opened the interactive weather experience StormStruck: A Tale of Two Homes® in Lake Buena Vista, FL. Learn more about FLASH and gain access to its free consumer resources by visiting http://www.flash.org or calling (877) 221-SAFE (7233). Also, get timely safety tips to ensure that you and your family are always well protected from natural and manmade disasters by subscribing to the FLASH blog – Protect Your Home in a FLASH.
# # #