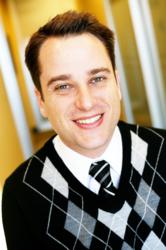 "Jason is a humble leader who emanataes what I can only hope to be the future of law and attorneys nationwide," says Managing Partner, William. R. Simon, Jr.
San Diego, CA (PRWEB) January 04, 2012
Jason S. Sheinberg, attorney at San Diego Law Firm, was selected as a San Diego County Young Attorney for 2011. With over 280 nominations in consideration, Jason made the selective list of San Diego's most prominent young attorneys; an accumulation of a peer nominating process that asks San Diego County lawyers to name the best young attorneys in San Diego County who are: Hard-Working & Detail-Oriented, Knowledgeable & Enthusiastic, Ethical & Professional and Committed to Furthering the Interest of Justice in Society.
Jason S. Sheinberg has been practicing law since 2004 and has been an attorney at San Diego Law Firm since February 2009. Jason's practice is centered on estate planning, trust administrations, probate administrations, Medi-Cal planning, conservatorships, and guardianships. Jason received his Juris Doctrine from Thomas Jefferson School of Law in 2003, and a B.A. in History from the University of San Diego in 2000.
Jason is also a member of the State Bar of California, the San Diego County Bar Association, the Estate Planning Section of the State Bar of California, and the University of San Diego Planned Giving Committee.
"My favorite thing about practicing law is being able to help people from all walks of life with their legal matters, and then become their attorney for life. Being a part of such an amazing firm and having kind and intelligent co-workers makes that pursuit even sweeter," says Jason.
"Jason emanates what I can only hope to be the future of law and attorneys nationwide. He is a humble leader in our firm, who pursues authentic relationships with both his clients and coworkers. He works tirelessly to ensure his clients understand their situation, find the best resolution possible, and understand the full benefits of the outcome. His desire to expand his legal knowledge in order to better service his clients and teach his department has become contagious. I am confident Jason has a bright future ahead of him in the legal industry, and we could not be more proud of him for receiving this award. It only solidifies what we've known for years; Jason's incredible," says San Diego Law Firm's Managing Partner, William R. Simon, Jr.
Jason was born and raised in Los Gatos, California and went to Bellarmine College Preparatory in San Jose, California. In his free time, Jason enjoys traveling, spending time with his beloved wife, Sara, his amazing parents, Bruce and Barbara, and all of his family and friends. Jason's wife Sara is truly an inspiration to Jason. It is only with her love and support, and their shared faith, that Jason has been able to accomplish so much. Jason looks forward to welcoming his twin baby boys in January of 2012.
About San Diego Law Firm
Located in North Park, San Diego Law Firm has a reputation for outstanding ethics in the marketplace, as recognized by the Better Business Bureau. The firm serves clients in a variety of matters, including business and real estate law; bankruptcy; divorce, support and custody; accidents and injuries; lawsuits and disputes; and wills, trusts and probate. To learn more about San Diego Law Firm, visit http://www.sandiegolawfirm.com.
# # #