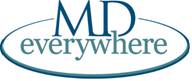 "MDeverywhere offers a great service that can really benefit medical practices. Their automated revenue cycle systems and services combine into a powerful tool to maximize a practice's revenue. We believe MDeverywhere is a great solution for our clients,"
New York, NY (PRWEB) January 05, 2012
MDeverywhere, Inc., a provider of physician revenue cycle management services, is pleased to announce a new partnership with Transworld Systems Inc., cash flow management agency, with unique products and services for medical practices. Through this partnership, MDeverywhere and Transworld Systems will jointly promote their complimentary services.
MDeverywhere has offered Transworld Systems' GreenFlagSM services as part of its cloud based practice management and revenue cycle services since 2006.
This integrated solution has streamlined the patient collections process for medical practices and helped increase their revenue. With one mouse-click, practices can identify and select delinquent patient accounts and electronically transfer those accounts to Transworld Systems to start the recovery process.
"Over the past few years our clients have had great results using the integrated solution. Their patient payment recovery rates are now between 40% and 60% which is much higher than traditional collection agency recovery rates," said Ann Bilyew, MDeverywhere's CEO. "This is an exciting opportunity for our companies to work together to offer a very effective solution to the market. Our combined suite ensures maximum collections from third-party payers and increases the collectability of the patient portion of the bill."
"MDeverywhere offers a great service that can really benefit medical practices. Their automated revenue cycle systems and services combine into a powerful tool to maximize a practice's revenue. We believe MDeverywhere is a great solution for our clients," said Tom Lee, Transworld Systems' Regional Sales Vice President.
About MDeverywhere, Inc.
MDeverywhere offers a leading revenue cycle management solution for physicians. Its unique solution includes web-based practice management software, coding rules engines, contract monitoring tools and full-scope claims management and back-office services. MDeverywhere serves over 3,500 physicians nationwide. Clients include solo practices, group practices, large faculty practices and hospitals in more than 40 different specialties. MDeverywhere is headquartered in Newton, MA with additional locations in Research Triangle Park, NC, Hauppauge, NY and Noida, India. To learn more about MDeverywhere, please call us at (866) 340-5500 or visit us at http://www.mdeverywhere.com.
About Transworld Systems, Inc.
Transworld Systems is redefining the collection agency industry by providing businesses and healthcare organizations with better tools for accounts receivable, debt recovery and past due accounts. With a success rate that substantially exceeds the industry average, Transworld has collected $6 billion over the past decade for more than 60,000 clients - from Fortune 500 companies to small businesses. To learn more about Transworld Systems, visit http://www.transworldsystems.com.
###