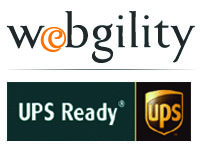 Our previous integration with UPS was dependent on the WorldShip software and the XML interface was limited. With UPS Direct, we can now provide a seamless integrated shipping experience for our customers and the feedback since launch has bee
San Francisco, CA (PRWEB) January 09, 2012
Webgility, a leading provider of eCommerce and QuickBooks integration solutions, is now a part of the UPS Ready Program and has completed the UPS Ready certification for its product, eCommerceConnector (eCC). eCC is a QuickBooks Gold certified software that fully integrates with QuickBooks and QuickBooks Point of Sales, a wide range of online shopping cart and marketplace platforms (BigCommerce, Magento, Pinnacle Cart, Amazon, eBay, etc.), popular payment processors (Authorize.net, PayPal, and QuickBooks Merchant Service), and major shipping processors (UPS, UPS WorldShip, etc.). With eCC, eCommerce merchants can streamline and automate their order fulfillment, inventory management and accounting process.
Prior to becoming a UPS Ready provider, Webgility supported UPS WorldShip, a downloadable PC application that enables merchants to access UPS services and generate UPS shipping labels. Although, UPS WorldShip offers UPS services that help streamline your order fulfillment, there are some limitations since eCC does not directly connect to UPS web services.
As a certified UPS Ready software, eCC fully integrates with UPS web services and provides UPS shipping services directly from eCC. The certification process consisted of Webgility's engineering team working closely with UPS to make sure that eCC directly integrates with UPS APIs, supports all UPS features, and properly generates and prints UPS-approved shipping labels. UPS APIs supported by eCC include address validation, rating, time in transit, tracking, shipping, pickup, and many more. (For more information on eCC's UPS features, click here.)
The direct integration provides fast and reliable access to UPS shipping and visibility services. Online retailers can automatically download orders from their online store to eCC, process shipping with UPS, and record transactions in QuickBooks. They can compare shipping rates, validate shipping address, track shipments, set domestic and international shipping defaults, and much more with eCC and UPS. In addition, they can update their products and synchronize inventory and pricing between their online store and QuickBooks with eCC.
"Our previous integration with UPS was dependent on the WorldShip software and the XML interface was limited. With UPS Direct, we can now provide a seamless integrated shipping experience for our customers and the feedback since launch has been tremendous. We're also able to provide multi-package, bulk shipping, tracking and address validation features which are essential for increasing fulfillment efficiency and reducing shipping errors," says Parag Mamnani, Founder and CEO of Webgility.
About Webgility:
Webgility is an Intuit Gold-certified software company that specializes in eCommerce integration, inventory management and order fulfillment. Founded in 2007, Webgility is headquartered in San Francisco, CA and has a development and support centers in Indore, India. The management team possesses over 15 years of experience in the eCommerce industry and has helped thousands of small- and medium-sized businesses successfully launch web-stores and streamline business operations through integration software. Visit http://www.webgility.com for more information about Webgility products and services and sign up for a free 15-day trial of eCC.
About UPS:
UPS is the world's largest package delivery company and a global leader in supply chain and freight services. With more than a century of experience in transportation and logistics, UPS is a leading global trade expert equipped with a broad portfolio of solutions. Headquartered in Atlanta, Ga., UPS serves more than 200 countries and territories worldwide. UPS can be found on the Web at UPS.com.
###