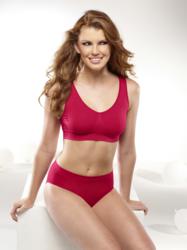 St. Petersburg, FL (PRWEB) January 04, 2012
The acclaimed Ahh Bra is once again returning to multi-channel retailer HSN on Wednesday, January 4th with some added support. In addition to the classic and still wildly successful Ahh Bra, as well as a full line of shapewear, swimwear, sleepwear and weekend wear, Rhonda Shear Intimates will now be debuting the Ahh Generation II Bra with the double-knit, seamless technology that made the Ahh Bra an instant hit with women internationally. Supple, light and comfortable, yet durable and strong, the inspiring second generation of Ahh will accompany the Ahh Bra with the inclusion of removable padding to provide modesty coverage for women in need of added support and even more comfort, all while eliminating the unsightly bra bulge.
"Women come in all shapes and sizes, so naturally, some of us need additional coverage and support," explained lingerie magnate and entertainment impresario Rhonda Shear, who invented the Ahh Bra. "The overwhelming reaction to the original Ahh Bra came with valuable feedback from my customers, so I felt that designing a dual support, more advanced iteration with a padding option would be a logical extension of the Ahh line for bigger busted women, providing them with the comfort and confidence they crave." The Ahh Generation II Bra will be sold in tricolor variation 3-packs in Neutral, Vintage or Sport and retailing for $39.90. Matching colored Ahh High Cut Seamless Brief's will also be sold for $29.99 on January 4th exclusively on HSN.
Rhonda Shear's Ahh innovation doesn't stop there. To see additional pieces from the Ahh Lifestyle Collection and much more, visit http://www.RhondaShear.com or visit http://www.HSN.com for show times and more information on the line.
Rhonda Shear Intimates was designed with the everyday woman in mind. Alongside various collections of loungewear, swimwear and weekend-wear, the brand's brilliant Ahh Bra has satisfied women all around the world, having sold more than 25 million units worldwide.
ABOUT RHONDA SHEAR
From her beginnings on the pageant circuit and campaign trail, to her role hosting "USA Up All Night," a nationwide comedy tour, and features in People and PLAYBOY, Rhonda Shear has proven that smart and sexy go hand in hand. Her latest endeavor, Rhonda Shear intimates, is a true passion project, with designs that focus on comfort and support without sacrificing femininity or style. With tremendous success selling over 25 million units of the AhhBra on HSN, The Shopping Channel: Canada, and other shopping channels, Rhonda continues to develop her line and empower women worldwide. As Rhonda's fashion clout continues to grow, she makes it a point to stay attune to her large and extremely loyal comedic fan-base, which has been eagerly awaiting her return to entertainment for years. In fact, her recent television experiences have even sparked a return to the small screen for Rhonda, who will be launching Rhonda Shear TV, which will be available online and feature interviews, fashion bites and other original content, including a revamped version of "USA Up All Night."
ABOUT HSN:
Headquartered in St. Petersburg, FL, HSN is a leading interactive multichannel retailer, offering a curated assortment of exclusive products and top brand names to its customers. HSN incorporates entertainment, inspiration, personalities and industry experts to provide an entirely unique shopping experience. At HSN, customers find exceptional selections in Health & Beauty (e.g. Benefit, Carol's Daughter, Coty, Elizabeth Arden, Andrew Lessman, Lancôme, My Life Mary J. Blige, Perlier, Serious Skin Care, Shiseido, Signature Club A, Stila, Wei East, ybf Beauty); Jewelry (e.g. Heidi Daus, Iris Apfel, R.J. Graziano, Rarities: Fine Jewelry with Carol Brodie, Amedeo Scognamiglio, Tori Spelling); Home/Lifestyle (e.g. Jeffrey Banks, Nate Berkus, Bissell, Colin Cowie, Dyson, Easy Exotic by Padma Lakshmi, Todd English, Emeril Lagasse, Happy Chic by Jonathan Adler, Joy Mangano, MoMA Design Store, Wolfgang Puck); Fashion/Accessories (e.g. American Glamour Badgley Mischka, Joan Boyce, Curations with Stefani Greenfield, Libby Edelman, Sam Edelman, Chi by Carlos Falchi, Diane Gilman, IMAN Global Chic, "Timeless" by Naeem Khan, Twiggy LONDON, Sharif, Serena Williams Signature Statement); and Electronics (e.g. Sony, Kodak, Acer, Olympus, GE, Panasonic).
A leader in transactional innovation, HSN is the only retailer offering live streaming video in HD on three screens: TV, online and mobile. HSN broadcasts live to 96 million households in the US in HD 24/7 and its website – hsn.com – is a top 10 e-commerce site, featuring more than 15,000 product videos. Mobile applications include HSN apps for iPad, iPhone and Android. HSN, founded 34 years ago as the first shopping network, is an operating segment of HSN, Inc.
EDITOR'S NOTE: For more information contact Pamela Wadler or Nancy Trent at 212-966-0024 or pam(at)trentandcompany(dot)com.
###