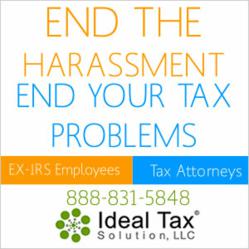 The trouble is that understanding taxation requires more than a genius mind. Even Albert Einstein admitted
Costa Mesa, CA (PRWEB) January 03, 2012
Many Americans tend to seek a CPA for tax troubles. CPA's are Certified Public Accountants. The name is alluring, especially for those suffering from tax debts. Taxes and accounting go hand in hand. But while hiring a CPA to help with taxes can be beneficial, there is an extent to the work they can do with the IRS. A CPA, by definition are people who provide to the public attestation (including auditing) opinions on financial statements. They also dabble in a small niche of tax preparation. However, Americans suffering from issues with the IRS can't resolve these problems with a CPA. Getting tax returns filed can be a huge relief but when it comes to tax debts, liens, levies, etc, only a tax resolution company can thoroughly assist.
A tax resolution company is more like one stop shopping. Tax companies have CPA's, Enrolled Agents, Tax Analyst and groups of knowledgeable people on staff. When working with a tax resolution company, one can have their taxes filed or amended, the work of a CPA, but then the company will proceed to lift levies and liens and eventually make amends a resolution on tax debt. Dealing with taxes is amongst unemployment in regard to difficult things in America. "The trouble is that understanding taxation requires more than a genius mind. Even Albert Einstein admitted, "The hardest thing in the world to understand is the income tax." So, if one is wading through reams of paperwork, trying to make sense of all the mumbo jumbo, it's time to take a break." So think twice before hiring that CPA and do research on tax resolution companies instead. As the saying goes, kill two birds with one stone.
About the company:
Ideal Tax Solution, LLC is located in Costa Mesa, CA and provides tax negotiation services, preparation and is a collection defense specialist. Their Tax Attorneys, IRS Enrolled Agents, CPAs, Senior Tax Consultants have over 55 years of combined experience working to help American tax payers with the IRS and State Tax Agencies. Ideal Tax boasts an "A" rating with the Better Business Bureau earned through providing excellent services.
# # #