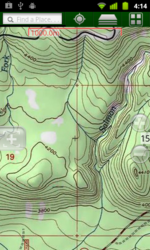 It's a way to transform a smartphone into a powerful outdoor tool
Camas, WA (PRWEB) January 05, 2012
Crittermap Software announced today that their Android GPS App, BackCountry Navigator, has been used by over 300,000 outdoor enthusiasts. BackCountry Navigator is currently ranked near the top of all paid apps in the Travel and Local category of the Android Market. The app runs on both Android phones and tablets, providing hikers, hunters, and other adventuresome users with the chance to preload topographical and aerial maps, and to use them in the field along with paths and waypoints.
"BackCountry Navigator is built for fun in the outdoors," said Nathan Mellor, CEO and lead developer at CritterMap Software. "It's a way to transform a smartphone into a powerful outdoor tool that, for many, is replacing a separate handheld outdoor GPS."
The app has been put to the test by backpackers since it first entered the market in 2010. In 2011, several people hiked the Pacific Crest Trail using the app as their primary navigation.
BackCountry uses the Android GPS, which is built into the device and uses satellites, so no signal from cell towers is needed for users to know their location. This makes the application especially popular with those who wander outside urban areas into forests, wilderness areas, and other places where coverage is spotty at best. Users can then see their position on maps that they have previously downloaded, and record waypoints, notes, and records of their track. For the best battery life, users can choose to activate the GPS hardware only as needed, and are often able to make extended trips.
In addition to using many map sources that are free to end users, BackCountry Navigator offers addons for specific groups to get more out of their outdoor experience. Among these are ATV trail maps, whitewater trail maps, and snowmobile trail maps. Especially popular are the BLM boundary maps for 12 western states, which allow hunters, hikers, and rock collectors to visualize the boundaries between public and private land.
"This app is the reason I bought an android phone," says Walt, a hiker on the John Muir trail. "On several occasions I've lost the trail but recovered using BCN."
Other users have reported similar success using it for waterfowl hunting, search and rescue, offroading, and trailrunning.
BackCountry Navigator PRO is available now for $9.99 from the Android Marketplace on Android-compatible phones or at market.android.com.
About CritterMap Software
Headquartered in Camas, Washington, CritterMap Software aims to make software and content for enjoyment of outdoor recreation. CritterMap Software is founded by an outdoor enthusiast with experience in both software development and land navigation.
###