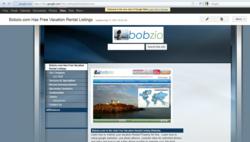 www.bobzio.com is doing our part to Do The Right Thing
Cape San Blas, Florida (PRWEB) January 05, 2012
There comes a time when good people need to stand up and do the right thing. That time is now. Bobzio.com is standing up to support the values of democracy and civilized society. It is Bobzio.com's aim to give recognition to those citizens and organizations supporting democratic principles, demonstrating social responsibility and fiscal integrity. Bobzio.com is a travel website promoting vacation rental properties, home swapping, socially responsible businesses, and providing a blog to highlight travel news.
How can Bobzio.com be a socially responsible organization? We offer a free platform for homeowners to advertise vacation homes for rent. Bobzio.com encourages people to do the responsible thing during this economic crisis by making house payments even if the home values slip. Bobzio.com gives socially responsible businesses and service providers a free platform to advertise products and services. We offer at bobzio.com a article publication service with the goal of giving recognition and praise to those individuals and businesses doing the right thing and pursuing a socially beneficial purpose.
Bobzio.com will sponsor the winner of Do the Right Thing for a week vacation at Bayrock 1 on Cape San Blas Florida. Follow our bobzio.com Press Releases and support our effort to strengthen our democratic republic.
###