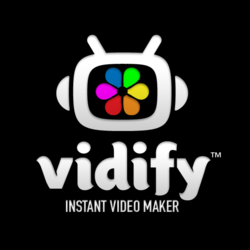 When we created Vidify, we wanted to make the process of editing videos just as easy as it was to capture them.
Venice, CA (PRWEB) January 04, 2012
Vidify, the most simple moviemaking tool for the iPhone, iPod touch and iPad, has launched on the App Store. Announced today by Los Angeles-based developer Nice Labs, Vidify takes the daunting process of editing videos on complicated software and transforms it into a easy and fun, three step app so that anyone can create a professional-style montage video, set to music, of a vacation, a wedding, or family event, and instantly share it.
"It's incredible how the smartphone has evolved into a device that also serves as people's primary camera and video recorder," said Gil Nevo, co-founder of Nice Labs. "People are capturing moments in an instant that were never before possible, so when we created Vidify, we wanted to make the process of editing videos just as easy as it was to capture them."
With Vidify, users simply select multiple videos from their device and then choose their music from a library of licensed songs by independent bands and artists, or from one's personal iTunes music library. Finally, with one simple touch of the screen, users "Vidify" their videos, and in less than a minute, have a professional looking montage video, set to music, that ranges from emotional moments to arty, cool, music inspired videos. The process is that simple.
"When we share personal videos, we're sharing a story, and music can play a big role in communicating that narrative. When we developed Vidify, it was important that people had the option to tell their story to their favorite music, or to music that was deeply imbedded in the app," added Ian Noe, co-founder of Nice Labs. "Users will be blown away with how a touch of a button results in creating a story that seamlessly blends from moment to moment as the music plays. It literally looks just like you spent hours editing it."
For users who want to share those moments, Vidify features the ability to instantly share videos with friends on Facebook, YouTube or by email. The videos can even be played wirelessly on Apple TV. Vidify also features effects and filters for users to enhance their videos, in addition to advanced features for users who want more control. For example, users can set the length of their final video to the length of the selected song, select the edit speed and trim video clips to a desired length. Vidify also gives users the capability to use source footage shot with any video app, and they can use as few or as many videos as they like.
Vidify was created by Nice Labs, the company founded by Emmy-Award Winning artist, animator, director and art director Gil Nevo ("South Park"), director, editor, producer, and visual effects supervisor Ian Noe (Academy-Award Winning feature film "Crash"), and Ryan Umlas, a veteran software engineer who brings more than 15 years of experience from positions with Capital Group and E! Entertainment.
Vidify, which is now featured in the "What's Hot" section of the App Store, sells for $1.99 and is available for download on the iPhone, iPod touch or iPad, or on the App Store at http://itunes.apple.com/us/app/vidify/id459324677?mt=8&ls=1.
To view a demo of the Vidify app, please visit http://vimeo.com/nicestudios/vidify-instant-video-maker. For more information on the app and to view sample videos, please visit http://www.vidifyapp.com.
*Please note that Vidify is compatible with iPhone 3GS, iPhone 4, iPhone 4S, iPod touch (4th generation), iPad 2 Wi-Fi and iPad 2 Wi-Fi + 3G. Requires iOS 4.3 or later.
###