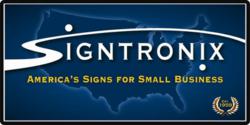 Torrance, CA (PRWEB) January 14, 2012
Signtronix, a national sign company based in Los Angeles, California that's been in business since 1959, announced the upcoming opening of a new office in Medford, Oregon. This new opening at the beginning of the year marks the start of an expansion program for Signtronix in 2012 and beyond.
"We've been making signs for small businesses across America for over 50 years. We are proud of our history and I must say that our growth and success is due to our innovative products and our fantastic Signtronix family. We make it a priority to make signs that help our customers grow and flourish in their respective communities," said Tom Johnson Jr., Director of Marketing for Signtronix.
Not only will Signtronix help small businesses in Medford and the surrounding communities, but also provide employment to people in these cities as well. Johnson said, "We look forward to serving Medford's business owners and those businesses in the communities around this great town."
Signtronix Continues to Grow and Expand, Sign Company is Opening a New Office in Medford, Oregon
Signtronix is looking for more team members for this new office in Medford. If anyone is interested in a sales position for Signtronix please contact them at careers(at)signtronix(dot)com. To learn more about the opportunity please visit http://www.SigntronixCareers.com.
About Signtronix
Signtronix (http://www.signtronix.com) is the premiere sign manufacturer for small businesses across the United States. The company was founded in 1959 and has helped over half a million customers in its 50 year history. Signtronix offers many different sign products from outdoor electric signs, LED messages signs and indoor and window signs to help America's small businesses get the exposure they need to their passing public and potential customers. Signtronix is proud to be an ESOP (employee stock ownership plan) company which is owned and operated by its employees. If you wish to view Signtronix on Facebook then visit http://www.facebook.com/signtronix or you can join us on Twitter at http://www.twitter.com/signtronix.
To learn more about Signtronix please contact Tom Johnson Jr. at trj2(at)signtronix(dot)com.
Related PRWeb Press Releases: 10 Reasons Why You Need to Re-Evaluate Your Business Signage - Signtronix
# # #