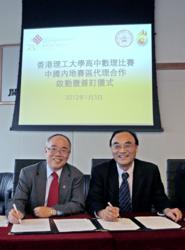 (PRWEB) January 04, 2012
The Hong Kong Polytechnic University (PolyU) has partnered with Beijing Normal University's GaoZhong Shu-Li-Hua Magazine (高中數理化雜誌) to launch its Secondary School Science and Mathematics Competition (SSSMC) for mainland students across the country.
Mr Chen Hao-yuan and Mr Chen Xiong, Chief Editor and Deputy Editor of GaoZhong Shu-Li-Hua Magazine, made a special trip to Hong Kong and signed the Memorandum of Understanding (MoU) on 3January 2012 with PolyU Vice President (Academic Development) Professor Walter W. Yuen.
Mr C K Wan, Head of PolyU's Office of Secondary School Relations and Outreach, who designed the competition, said SSSMC aims at promoting students' interests in Mathematics and Science, and fostering the habits of broadened learning and reading. It would help enhance their generic skills of creativity, problem solving, communication and collaboration.
Under the MoU, GaoZhong Shu-Li-Hua Magazine will be responsible for organising and promoting SSSMC across the country, while PolyU will set the questions and provide the test papers. The magazine will also take care of registration and logistics arrangement for the competition which is categorised by the subject of Mathematics, Physics, Biology and Chemistry.
SSSMC is primarily designed for S5 students of the New Secondary School Curriculum in Hong Kong. Mr Wan also advised mainland students to take the SSSMC one year ahead of the Joint Entrance Examination. Through participation in SSSMC, mainland students could familiarise themselves with the local syllabus and prepare for further studies in Hong Kong.
Press contact: Mr C K Wan
Head, Office of Secondary School Relations and Outreach
Tel: (852) 3400 3706
###