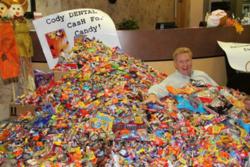 $980 given in cash donations by Dr. Reed to support local schools.
Aurora, Colorado (PRWEB) January 04, 2012
Aurora Orthodontics office, under the leadership of Dr. Charles Reed, closed out 2011 on a high note and it's not because of any big business goals achieved this year. Rather, it's because Dr. Reed recently learned his Aurora orthodontics office was part of a new all-time giving record set by Operation Gratitude.
The new record was achieved in Operation Gratitude's annual Candy Buy Back program with over 221,000 pounds of candy collected. The candy was then used to send care packages to our military serving overseas to help them celebrate the Halloween season.
"Our staff was excited to participate in this great cause and look forward to opportunities in the future to support our military and the Colorado community," said Dr. Charles Reed, a 5280 magazine Top Aurora Orthodontist.
Halloween is especially a challenging time for Dr. Reed's Aurora orthodontics office because many loose and broken appliances are associated with candy consumption. Operation Gratitude's Candy Buy Back program was a perfect match for Dr. Reed and his mission to create beautiful, healthy smiles in the community.
Dr. Reed was also excited that this candy buy back program allowed them to partner with eight surrounding grade schools. Students were encouraged to drop off their candy and earn $1 per pound donated. Many of the students chose to forego the cash return in recognition of the "win-win" to get the candy out of the home and support our troops at the same time. Funds that were earned went to the PTA organizations to support the purchase of school supplies for the classes. Overall, Dr. Reed's Aurora orthodontics office gave away $980 in cash donations.
"When Dr. Reed approached us with the idea to support our troops by participating in the candy buy back program it was an easy decision. Not only could we help bring some Halloween cheer to our military serving overseas, but also encourage the responsible consumption of candy during a season that isn't best for supporting the healthy, beautiful smiles we help to create in our orthodontist office," shared Allison, Reed Orthodontics office coordinator.
According to Dr. Reed his Aurora orthodontics staff looks forward to participating in Operation Gratitude's Candy Buy Back program again next year with its sights set on breaking a personal record of nearly 2,000 pounds donated!
About Dr. Charles Reed
Dr. Reed has been a two time recipient of 5280 magazines' Top Denver Orthodontist award, a two time recipient of Colorado Community Newspapers Best of the Best Centennial Orthodontist award, a Family Favorites 2011 winner and Talk of the Town 2011 winner. He is also a published author with a passion of creating smiles for a lifetime.
For media inquiries, please contact Dr. Reed at his office:
Reed Orthodontics
20971 E Smoky Hill Rd Ste 200
Aurora, Colorado 80015
United States
Phone: (303) 617-3333
http://www.reedortho.com
###