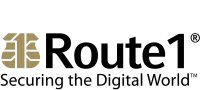 Toronto, Ontario (PRWEB) January 04, 2012
Route1 Inc. (TSXV: ROI), a security and identity management company, today announced that the Canadian Patent Office has allowed Route1's patent application titled, "System and Method for Accessing Host Computer Via Remote Computer." Route1 Inc. expects its Canadian patent to issue in 2012.
The Route1 patent application claims a method of enabling communication between a host and a remote using a controller, wherein the controller participates in establishing a communication channel between the host and the remote, and then the host and the remote communicate directly with each other without the controller.
The claims also cover the remote using a controller to enable communication with a host, as above, and a host using a controller to enable communication with a remote, as above.
The Canadian patent application was originally filed on February 26, 2007, claiming priority from a corresponding U.S. patent application (now U.S. Patent No. 7,814,216), filed on September 7, 2004.
ABOUT ROUTE1, INC.
Route1 delivers industry-leading security and identity management solutions to enterprises worldwide, such as businesses, government and military, which need universal, secure access to all digital resources and sensitive data. These customers depend on The Power of MobiNET - Route1's communications and service delivery platform. MobiNET provides identity assurance and individualized access to networks and data. Route1's patented solutions are based on FIPS 140-2 cryptographic modules, and simplify the process of meeting increasingly stringent regulatory requirements for privacy and security. Headquartered in Toronto, Canada, Route1 is listed on the TSX Venture Exchange.
For more information, visit our website at: http://www.route1.com.
This news release, required by applicable Canadian laws, and does not constitute an offer to sell or a solicitation of an offer to buy any of the securities in the United States. The securities have not been and will not be registered under the United States Securities Act of 1933, as amended (the "U.S. Securities Act") or any state securities laws and may not be offered or sold within the United States or to U.S. Persons unless registered under the U.S. Securities Act and applicable state securities laws or an exemption from such registration is available.
Neither the TSX Venture Exchange nor its Regulation Services Provider (as that term is defined in the policies of the TSX Venture Exchange) accepts responsibility for the adequacy or accuracy of this release.
© Route1 Inc., 2012. All rights reserved. Route1, the Route1 and shield design Logo, SECURING THE DIGITAL WORLD, Mobi, MobiSecure, Route1 MobiKEY, Route1 MobiVDI, MobiKEY, MobiKEY IBAD, DEFIMNET, MobiNET, Route1 MobiNET, TruOFFICE, TruFLASH, TruOFFICE VDI, MobiKEY Fusion, EnterpriseLIVE, EnterpriseLIVE VO, MobiNET Agent and MobiKEY Classic, are either registered trademarks or trademarks of Route1 Inc. in the United States and or Canada. All other trademarks and trade names are the property of their respective owners. The DEFIMNET and MobiNET platforms and the MobiKEY, MobiKEY Classic and MobiKEY Fusion devices are protected by U.S. Patents 7,814,216 and 7,739,726, and other patents pending.
# # #