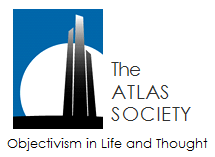 As this contagion spreads, along
with the release of Atlas Shrugged: Part 1 and 2, many will yearn for more answers. The time
for the active promotion of open Objectivism is now."
Washington, DC (PRWEB) January 04, 2012
The Atlas Society announces five new job openings. The first position is based in Washington, DC, the other positions can be done remotely.
1) Assistant to the COO (based on Washington, DC)
2) Internship - The Atlas Society Capital Campaign
3) Internship - Summer Seminar Marketing
4) Internship - The Atlas Society Online Store
5) Internship - Fundraising Technical Operations
"The dramatic groundswell of collectivism, particularly over the past two years, has pushed the global economy to the brink of collapse. As this contagion spreads, along with the release of Atlas Shrugged: Part 1 and 2, many will yearn for more answers. The time for the active promotion of open Objectivism is now," said Aaron Day, COO of The Atlas Society.
To learn more about the job opportunities contact:
Aaron Day, Chief Operating Officer
ard(at)atlassociety(dot)org
617-248-8990
About The Atlas Society
Founded in 1991, The Atlas Society (TAS), a 501(c)(3) nonprofit organization headquartered in Washington DC, develops and promotes open Objectivism: the philosophy of reason, individualism, achievement and freedom. Objectivism was founded by Ayn Rand (1905-1982), the author of Atlas Shrugged, The Fountainhead, The Virtue of Selfishness, and other works. As the founders of open Objectivism, TAS believes that the philosophy is a body of knowledge open to expansion and revision, through rational inquiry and open discussion and debate. The organization's programs reach a broad audience ranging from the general public to graduate students in philosophy. Learn more about The Atlas Society and its distinguished board
TAS has recently announced $1 million capital campaign to promote the Atlas Shrugged films (Part I and the upcoming release of Part 2) and educate viewers about the ideas in the Atlas Shrugged novel.
###