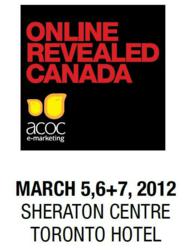 (PRWEB) January 04, 2012
Canada's premier tourism online marketing conference Online Revealed Canada offers exceptional value for travel and tourism professionals focused on building their online business. Register with the super early bird rate by January 6, 2012 to save $200. New this year, registration includes two free bonus features - access to breakout sessions during the Hotel Association of Canada (HAC) Conference on March 6th, and free admission for a full day at the Canadian Tourism Marketing Summit on March 7th.
"Registered delegates are provided Freedom Passes with cross over privileges to all workshops offering the ultimate flexibility to chose to attend any breakout session they like. ORC delegates can mix & match with some of the sessions that HAC is offering or stay in the Online Revealed track. Either way, it will be two great days of information-packed workshops dedicated to tourism online marketing" states Patricia Brusha, Co-Founder of Online Revealed Canada and A Couple of Chicks e-Marketing who present Online Revealed Canada.
The 22 workshops offering hands-on learning include "How to Create an SEO Strategy" and "Social Media Champions: Who Is Managing Your Online Voice?" HAC sessions include "Travel Intentions Survey" and "QR Code Marketing, Does it Work for Travel," and so many more. In addition, ORC 2012 features two inspiring keynotes presented by all-star social media gurus Steve Irving, Senior Business Leader at Facebook Canada and Leonard Brody, President, Clarity Digital Group.
To take advantage of super early bird rates available until January 6, 2012 for Canada's leading online marketing conference for the tourism and travel industry, visit http://www.onlinerevealed.com/register_now.php
Travel industry professionals planning on attending Online Revealed are urged to make reservations at the Sheraton Centre Toronto Hotel at special rates starting from $269/night http://www.onlinerevealed.com/accommodations.php. Hotel accommodations are at a premium throughout Toronto March 5-7, 2012 as the city is hosting 22,000 various convention delegates.
About Online Revealed:
The Online Revealed tourism marketing conference provides travel and tourism professionals with unique and innovative online marketing education, with an agenda that includes educational workshops, keynotes and panel discussions, all driven by the industry for the industry. The event is produced by leading online marketing firm, A Couple of Chicks e-Marketing, http://www.acoupleofchicks.com in association with Big Picture Conferences. Online Revealed Canada is an annual Canadian conference with a mission to educate the tourism industry to be successful on the World Wide Web. Visit http://www.onlinerevealed.com for more information.
###