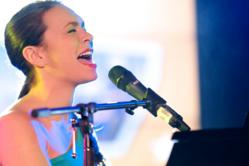 Billie Holliday, Sarah Vaughn, Janis Joplin, Muddy Waters, and BB King are some of the greatest singers and musicians of all time. Fuse all of these artists together... Jessi Teich.
Philadelphia, PA (PRWEB) January 05, 2012
Jessi Teich, Philadelphia based singer, composer, musician, performer, and Berklee College of Music graduate, performed as a special guest at Mayor Michael Nutter's Inauguration Party on Monday, January 2, 2012, at the Philadelphia Convention Center. The performance captivated and energized the 1000 invitees that were celebrating the new term of the re-elected Philadelphia mayor.
About Jessi Teich:
Rising talent Jessi Teich, a Philadelphia singer/composer, has the ability to capture and express the thick, luscious tones from an ear well-trained by voices resounding from old LP's that spun the jazz greats. With her versatility and ever changing timbre of poetry, Jessi sets a mood with her music that is bursting with passion and creativity. The quality of her voice matches her compositions that churn with soulful cries for love, and quirky lines that move with a purpose. She puts on a high energy and musically intelligent show that surpasses all race, age, religion, and sex.
Jessi has performed at many prestigious venues in Philadlephia, New York, and across the country that include the TLA, Tin Angel, Rockwood Music Hall, The Apollo Theater, and BB King's Club.
For more information on upcoming shows and the latest news on Jessi's career, check out her website, http://www.jessiteich.com/ or visit her Facebook page at http://www.facebook.com/jessiteichmusic.
###