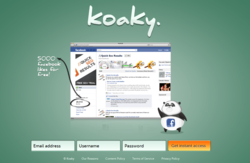 Refer a friend and grow your social network quickly!
Cebu, CEB (PRWEB) January 05, 2012
Clicking Labs, a leading provider of Web 2.0 business applications announces its latest updates on Koaky. Koaky launched in late 2011, as one of the company's first free applications to achieve more Facebook Likes, Twitter Followers, Google Plus 1s, and the like through a click of the mouse for free. All Koaky asks is to simply sign up and after which, a user can begin to use the platform to grow social network profiles. This provides users an alternative to a manual system of gathering a social media following.
This initiative of Koaky, brought on by the vision of the CEO of Clicking Labs, JP Bisson, mentions, "We developed Koaky with giving back to the community in mind. Koaky is built on the basis of a community where we help others who need help and they will help others in return to grow online awareness." Business Development – Managing Director, Jonathan Kennedy adds, "Our process is based on mutual respect. So if a person likes a page, they then can post their own pages to be liked by others. Also, with so many social networks sprouting about these days, we decided that Koaky must be able to support a wide variety of social networks to serve the needs of the members of our community."
Koaky is the latest service online to grow social networks that is absolutely free. It is a free social media sharing online platform that can help struggling start-up companies, personalities, and individuals gather online exposure and credibility in the eyes of its peers. The sign up process is simple and easy. When a person signs up for Koaky, the only thing required is an e-mail and password. After a successful confirmation, they have the ability to earn and redeem points and grow their social networks quickly.
After earning points, a user can then redeem the points earned to grow social network profiles. Koaky's system is based on a mutual respect for other users and to foster growth within the community. As an incentive to grow, Koaky offers a referral system. For every successful referral for a new member, the referrer will receive ten (10) extra points on their dashboard for their own purposes. Although currently a month old in its development, its user database has grown up to three times its initial number and constantly growing each passing day.
Koaky currently offers the following social media networks and its services: Facebook, Facebook Share, Twitter, Retweet, Digg, Google Plus, Stumble Upon, and LinkedIn. The team behind Koaky is in the works of offering more social networks to help its market grow their social network profiles. Visit their website at http://www.koaky.com to know more about Koaky and its updates.
About
Koaky is a wholly owned company by Clicking Labs. With dedication and perseverance they were able to bring together a diverse team of web professionals to provide internet businesses with creative web marketing strategies. Founded in Ottawa, Canada, the company has expanded operations to Cebu, Philippines in early 2011 to better serve its clients.
###