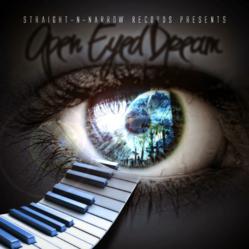 Miami, FL (PRWEB) January 05, 2012
Producer Premise recently released his mixtape "Open Eyed Dream." Presented by Straight-N-Narrow Records and Coast 2 Coast Mixtapes, it is now available for free download. "Open Eyed Dream" is a collection of Premise-produced tracks featuring guest artist appearances by Kritikal, Nico the Beast, Jon Quest, Real Deal, Franchise, Tekneek, Palermo Stone, Mario Dones, Rock Philth, Jay Mel, Apex, and more.
Premise, a Philadelphia native now living in Pittsburgh, graduated from the University of Pittsburgh in 2005. The son of a drummer, he has been toying around in studios his entire life, and in 2001, established Straight-N-Narrow Productions to begin the grind through the hip hop underground. "Open Eyed Dream" is the culmination of working vigorously in 2011 through multiple circles to enlist some veteran MCs and dope up-and-comers with the task of rocking Prem's illest joints.
"As artists, producers and just creative people in general, I think we strive to create a life that involves mastering our craft 24/7, getting paid for and living off it, at least somewhat comfortably," Premise says. "The dream is why we persevere, why we keep grindin' after many years and for some of us, decades or more. The 'Open Eyed Dream' is when that comes to pass and we reach that goal to work for ourselves, doing what we believe we were put here to do. For me personally, after ten years of working on my production versatility, understanding of the biz (publishing, distribution, etc.), and building a network of individuals who are doers, my time isn't far away to reach that goal of quitting a day job for good. I ironically came up with the concept while at my day job. I work in admissions for the Art Institute of Pittsburgh and talk to students all day long about pursuing their dreams regardless of the naysayers and doubters. 'Dreams' as a concept and basis for a project has definitely been done in the past, but in this case I took the more cinematic approach, as opposed to the cliche 'follow your dreams' deal."
Premise will be continuing to work with artists this year on tracks for a follow-up, but will also be heavily focused on his role with iStandard Producers, and a collaboration project with dope DC producer DJ J-Scrilla and his Innerloop Records roster, bringing DC and Pittsburgh together.
"Open Eyed Dream" is available for free streaming and download at http://coast2coastmixtapes.com/mixtapes/mixtapedetail.aspx/straight-n-narrow-records-premise-open-eyed-dream
###