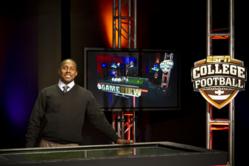 "This technology is another way to bring fans deeper into the game and allow them to understand decisions being made by players and coaches, as delivered by our world-class talent who have played in the game," said Anthony Bailey
WINTER PARK, FL (PRWEB) January 05, 2012
As part of their ongoing collaboration, Full Sail University joined with ESPN's Emerging Technology team and EA SPORTS to unveil ESPN's newest virtual technology application: EA SPORTS GameView. College football analyst Desmond Howard provided a demonstration of this augmented reality, which was filmed on location at the Full Sail University Sports Lab Powered by ESPN. This new technology is airing during ESPN's Bowl Championship Series this season.
Through the use of this virtual technology, ESPN analysts have total control of a play on a 70-inch touch screen built into a tabletop, which allows them to move 3D virtual players of their choice, run plays they choose, zoom in, rotate the field, and telestrate all in real-time using a suite of tools at their fingertips. Also included with the GameView technology is the ability to breakdown multiple plays simultaneously.
"This technology is another way to bring fans deeper into the game and allow them to understand decisions being made by players and coaches, as delivered by our world-class talent who have played in the game," said Anthony Bailey, Vice President, Emerging Technology, ESPN.
A select group of Full Sail faculty, students and graduates were present to help develop the technology, and prepare the Full Sail University Sports Lab Powered by ESPN for the first demonstration of the application. Over fifteen students were given the opportunity to work as part of the crew during the week-long production. In addition, Computer Animation graduate Jason Black and Digital Arts graduate Erik McGrew returned to campus and were on-hand as concept developers for ESPN.
"We're prerecording a virtual shoot for Desmond Howard who's doing a BCS Bowl rundown," Black said. "What we're doing here is helping with an interface where they can use a touch screen to move EA Sports players around. We're working in the Sports Lab and I used to have motion capture projects in there. It's definitely surreal."
About ESPN Technology:
ESPN Technology develops the ideas and applications that bring the fan closer to the game with new, innovative production enhancements. ESPN's technology team designed and supports two of the most technologically-advanced production centers in the world, the Digital Center in Bristol, Conn. and the Los Angeles Production Center which is the first 1080p capable production facility. In addition, the Emerging Technology Group has developed many on-air advancements over the past 30 years, including ESPN 3D, virtual graphics applications, Huck-O-Meter, and the Emmy-winning EA Virtual Playbook.
About Full Sail University:
Full Sail University is an award-winning educational leader for those pursuing careers in the entertainment and media industry. Founded in 1979, Full Sail has been recognized as one of the Top Five Game Degree Programs by Electronic Gaming Monthly, one of the Best Music Programs by Rolling Stone Magazine, and one of the Best Film Programs by UNleashed Magazine. In 2011, Full Sail received the "21st Century Best Practices in Distance Learning Award" from the United States Distance Learning Association, was named the "School/College of the Year" by the Florida Association of Postsecondary Schools and Colleges, and was recognized as one of the Top 100 Social Media Colleges by Studentadvisor.com.
Full Sail offers on-campus and online Master's, Bachelor's, and Associate's degree programs in areas related to animation, art, business, education, graphic design, film, marketing, web development, music, recording arts, sports, and video games. Full Sail graduate credits include work on OSCAR®, Emmy®, GRAMMY®, ADDY®, MTV Video Music Award, and Spike Video Game Award nominated and winning projects.
http://www.fullsail.edu
http://www.twitter.com/fullsail
http://www.facebook.com/fullsailuniversity
###