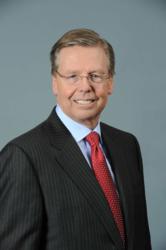 "As part of this effort, we are providing participating practices with online tools and information never before available," said Chet Burrell, CareFirst President and CEO.
Baltimore, Maryland (PRWEB) January 04, 2012
CareFirst BlueCross BlueShield (CareFirst) today announced that it has joined with the American College of Physicians (ACP) to make available the ACP's Medical Home Builder® 2.0 (MHB 2.0) tool to participating CareFirst Patient-Centered Medical Home (PCMH) practices. The ACP developed MHB 2.0 as an online tool to help physician practices improve patient care, organization, and workflow. CareFirst is making the MHB 2.0 tool available at no cost to primary care practices participating in its PCMH program to help them improve their ability to provide coordinated, more efficient care.
"We have well over 3,000 primary care providers participating in our PCMH program," said CareFirst President and Chief Executive Officer Chet Burrell. "As part of this effort, we are providing participating practices with online tools and information never before available to help them provide care in a way that can improve quality and reduce costs over time. By working with ACP, we are making available yet another resource to PCMH physicians, nurse practitioners and office staff to improve the delivery of patient care."
The ACP is a national organization of internists — physicians who specialize in the prevention, detection and treatment of illnesses in adults. ACP is the largest medical-specialty organization and second-largest physician group in the United States. The organization's MHB 2.0 is an online tool designed to help large and small PCMH practices improve patient care.
"ACP is very pleased to be collaborating with CareFirst in support of the PCMH program," said Michael S. Barr, Senior Vice President, Medical Practice, Professionalism and Quality Improvement for the ACP. "We look forward to interacting with practices through eight regional meetings and a series of webinars being organized to reinforce some of the practice change concepts advanced through the Medical Home Builder."
CareFirst and the ACP will host a regional meeting for PCMH practices seeking to learn more about ACP's MHB 2.0 at the Columbia Sheraton Hotel on Wednesday, January 25, 2012, from 6 p.m. to 8:30 p.m. Practices can register for the meeting by visiting http://www.carefirst.com/cpet or by calling CareFirst's enrollment hotline at 877-269-2219. Information on upcoming regional meetings and seminars can be found by visiting http://www.carefirst.com/cpet.
CareFirst PCMH users of MHB 2.0 will be part of an online community of PCMH practices, large and small, that are committed to improving patient care. Practices will have access to best practice videos and a discussion board where questions can be posed to a community of MHB 2.0 colleagues. Learning modules available through MHB 2.0 focus on developing medical homes and associated clinical topics. Each module includes:

Background information — an explanation of key principles, research, and important concepts for members of the PCMH team.
The Practice Biopsy® — a self-assessment that covers National Committee for Quality Assurance (NCQA), Utilization Review Accreditation Commission (URAC), and draft Joint Commission standards. The Practice Biopsy® helps practices identify opportunities for improvement – or validate efforts a practice has already undertaken in this area.
A Case Study — "How It Works in Practice" describes the efforts of one practice as it works through the findings generated through each module.
The Resource Library — a virtual bookshelf, which includes relevant references and informative guides in a variety of formats including downloadable guides and policy templates.
Reporting functions to help track progress over-time, identify opportunities for improvement and compare practices.
CareFirst will make available the MHB 2.0 tool beginning in January 2012 to PCMH physicians in good PCMH program standing. To avoid incurring costs typically associated with MHB 2.0, providers should not begin using the tool until contacted by CareFirst. CareFirst will provide membership and login instructions for the tool to PCMH participants. Physicians or practice administrators interested in a free demonstration webinar can visit http://www.medicalhomebuilder.org or contact MHB(at)mail(dot)acponline(dot)org.
In its 75th year of service, CareFirst, an independent licensee of the Blue Cross and Blue Shield Association, is a not-for-profit health care company which, through its affiliates and subsidiaries, offers a comprehensive portfolio of health insurance products and administrative services to nearly 3.4 million individuals and groups in Maryland, the District of Columbia and Northern Virginia. In 2011, CareFirst contributed more than $50 million to community programs designed to increase the accessibility, affordability, safety and quality of health care throughout its market areas.
To learn more about CareFirst BlueCross BlueShield, visit our Web site at http://www.carefirst.com or follow us on Twitter: http://twitter.com/CareFirst_News.
###