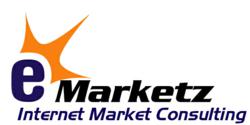 "Since launching the service, EMarketz has already managed hundreds of Guaranteed SEO Service campaigns, and the success rate is higher than 99% -- which is extraordinary compared to industry standards,"
(PRWEB) January 06, 2012
Global SEO strategy company EMarketz India Pvt Ltd (http://www.emarketz.net) announced today the launch of its bold Guaranteed SEO Service, which promises clients top search engine ranking or their money back – guaranteed.
Ideal for new websites, niche websites, and websites facing stiff competition, EMarketz's new Guaranteed SEO Service is the risk-free solution for business owners who worry those ongoing, unpredictable changes to search engine algorithms will wreak havoc with their rankings and overall Internet Marketing strategy.
Clients simply sign-up for EMarketz's cost-effective Guaranteed SEO Service, and rest easy knowing that the reputable SEO strategy company's dedicated team of SEO Researchers and Analysts are working non-stop to keep them one-step ahead of their competition.
"Since launching the service, EMarketz has already managed hundreds of Guaranteed SEO Service campaigns, and the success rate is higher than 99% -- which is extraordinary compared to industry standards," commented EMarketz's Sales Director Anuj Arora. "And of course, for the less than 1% of clients who didn't see the results they expected, we promptly and professionally returned their money."
EMarketz's Guaranteed SEO Service is available in five package options: Express SEO, Bronze, Silver, Gold, and Privilege. Each package is featured at competitive price position, and offers a range of benefits and services to fit the needs, goals and budget of any business – from start-ups to Fortune 500 firms. To learn more about EMarketz's Guaranteed SEO Service visit http://www.emarketz.net/top-banners/guaranteed-seo-service#top.
For more information or media inquiries, contact Anuj Arora at sales(at)emarketz(dot)net.
About EMarketz India Pvt Ltd
Headquartered in New Delhi, India, EMarketz India Private Limited provides comprehensive Internet Marketing Services to Fortune 500 companies, mid-size businesses, and small business segment companies, including start-ups. Services are aimed at helping businesses grow their sales through effective use of inbound marketing and other strategies. In-house SEO research department continues to be a core strength that enables EMarketz to produce consistent results for ever demanding clients. Learn more at http://www.emarketz.net.
###