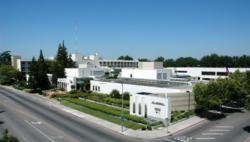 Today our clinicians experience less hassle and fewer communication errors, breakdowns and delays.
Knoxville, TN (PRWEB) January 05, 2012
PerfectServe announced today that St. Joseph's Medical Center in Stockton, Calif., a member of Catholic Healthcare West, has launched its clinical communication and information delivery system to improve the coordination of care among nurses, physicians, and hospital staff.
"Our old hospital communication systems were inadequate, relying heavily on overhead pages, handoffs to third-party answering services, and manual processes that required nursing staff to maintain and refer to numerous lists and faxed call schedules," said Susan McDonald, MD, vice president of medical affairs at St. Joseph's Medical Center. "The result was inefficiency, risk and frustration caused by communication process breakdowns."
Now, at St. Joseph's Medical Center, all the variables that are required for nurses and physicians to accurately determine which physician to reach at any given moment in time—and how to do so—are assembled and maintained within the PerfectServe platform. These include all the communication and information delivery workflows, call schedules and contact preferences for every member of St. Joseph's medical staff, for every moment of every day.
"Today our clinicians experience less hassle and fewer communication errors, breakdowns and delays," said Don Wiley, chief executive officer at St. Joseph's Medical Center. "Clinical calls and messages route with much greater accuracy and reliability, which helps our clinicians connect with each other and coordinate care more efficiently."
Every St. Joseph's Medical Center physician—inside and outside the hospital—is connected to PerfectServe's single network platform and directory. Access is provided via a single number, or via a single Web portal and mobile Android and iPhone applications.
Since implementing PerfectServe, St. Joseph's Medical Center is now processing more than 2,500 transactions each week, suggesting that the hospital has achieved a critical level of process standardization. Importantly, every transaction on the new process is documented automatically and PerfectServe Analytics give Dr. McDonald and other St. Joseph's clinical leaders, the tools to continuously improve their communication processes over time.
"It has improved our ability to deliver critical lab values more quickly and documented within the 30-minute window," said McDonald. "It also has improved handoffs with our hospitalist service, and makes hospital communication between nurses and physicians and between physicians themselves more efficient."
"We designed PerfectServe to allow doctors to selectively filter and control the clinical communications they receive," said PerfectServe's president and CEO, Terry Edwards. "This saves physicians time and increases their satisfaction with St. Joseph's Medical Center and the new processes PerfectServe enables."
"Getting a hold of colleagues has been much easier since PerfectServe has gone live at St. Joseph's," said Alan Kawaguchi, MD, orthopedic surgeon. "Communication is faster, and I have the PerfectServe iPhone app, so I don't have to go looking for physician phone numbers."
This is PerfectServe's first deployment within the 40-hospital Catholic Healthcare West system, the nation's eighth largest health system, and the largest hospital system in California.
About PerfectServe
Advancing the coordination of care across the continuum, PerfectServe's clinical communication and information delivery platform makes it easy for health systems to connect their clinicians—and push relevant clinical information—to the right physician at the right time, in the precise way each physician wishes to be reached. Based in Knoxville, Tenn., PerfectServe processes more than 30 million transactions annually via its platform connecting more than 20,000 physicians in health systems and medical practices across 154 markets in the U.S. For more information go to http://www.perfectserve.com or call 877-844-7728.
# # #