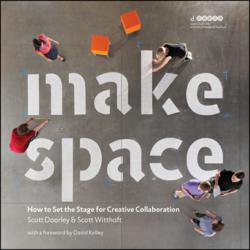 Hoboken, New Jersey (PRWEB) January 04, 2012
Anyone who has worked long hours in a cubicle, struggled with piles of work on a dining room table, or sat through a long lecture knows that many spaces are not designed to unleash personal creativity. Make Space: How to Set the Stage for Creative Collaboration (John Wiley & Sons; January 2012; $49.95) will inspire and guide individuals and teams with concrete techniques for altering space in order to enhance communication, collaboration and innovation. Anyone looking to transform any environment from workplace to home studio will use Make Space as a tool to intentionally manipulate space to ignite creativity.
Make Space is packed with more than 120 mini-entries and full-color images and illustrations that provide context and instructions to empower readers to jump from inspiration to action. The content is the result of more than five years of real-life learnings by the Stanford University d.school and its Environments Collaborative Initiative. Written by Scott Doorley and Scott Witthoft, a thought leading author team from Stanford's d.school, with a foreword by David Kelley, an introduction by George Kembel, and design by Scott Stowell (winner of a 2008 Cooper-Hewitt National Design Award), the book shows readers how to change their surroundings and to enhance the ways teams and individuals communicate, work, play—and innovate. The book offers five different categories of content for the readers to access depending on their needs:
TOOLS—tips on how to build everything from furniture to wall-treatments and rigging that can enhance productive behavior
SITUATIONS—scenarios and layouts that can spark creative activities
INSIGHTS—mini-lessons designed to shortcut your learning curve
SPACE STUDIES—candid stories by others with lessons on creating spaces for making, learning, imagining, and connecting
DESIGN TEMPLATE—a framework for understanding, planning, and building your own collaborative environments
Make Space: How to Set the Stage for Creative Collaboration offers specific strategies for activating creativity, communication and innovation across institutions, corporations, teams, and schools alike. From the beginning, this book was designed to become the perennial favorite manual that people turn to time and time again, for guidance and inspiration when concocting the perfect alchemy of people, place, space and things.
ABOUT THE AUTHORS:
Scott Doorley and Scott Witthoft are directors of the Environments Collaborative at Stanford University's d.school--the Hasso Plattner Institute of Design. With the support of the d.school, they have prepared Make Space as a tool for everyone interested in designing and creating environments to support creative collaboration.
The Stanford d.school (Hasso Plattner Institute of Design at Stanford) is a multidisciplinary program that teaches design thinking to graduate students from across Stanford University and offers an executive leadership program to C-level executives of Fortune 500 companies. To learn more visit http://dschool.stanford.edu/.
MAKE SPACE
How to Set the Stage for Creative Collaboration
Published by John Wiley & Sons, Inc.
Publication date: January 9, 2012
$49.95; Paperback; 272 pages; ISBN: 978-1-118-14372-8
###