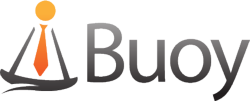 Accountants will now save hours upon hours of time having information up to date, and workflow moving forward so that projects can be completed more quickly, easily, and with better customer relations
Manchester, MD (PRWEB) January 05, 2012
A long-term CPA, John Campion, from Maryland has developed and released an online client management portal for accountants, named Buoy. The new service provides accountants with an easy way to manage clients, documents, workflow and more , securely from any Internet connected computer. Campion has leveraged his extensive tax and accounting experience into creating a secure online service for accountants that makes their job of managing tax clients and information much easier.
From having worked with thousands of clients and tax returns, Campion saw a growing need to better keep track of client information and workflow materials, so that more time was spent on the work itself, not on managing the work. Campion's unique CPA experience and extensive computer programming skills allowed him to develop an online service to make life easier for accountants. "I realized from experience all of the ways that work on tax returns and accounting can be slowed down or stuck in limbo; I wanted to create something that was practical, meaningful, and easy to use for accountants – Buoy provides just that."
Buoy's main benefit is to make the management of the tax return and accounting process easier, for both accountant and client. This is actualized through integrated client contact information, project updates, and related documents. "Accountants will now save hours upon hours of time having information up to date, and workflow moving forward so that projects can be completed more quickly, easily, and with better customer relations", Campion added. One of the highlights of Buoy is its Dashboard which allows accountants to get an instant summary of upcoming tasks, deadlines, and related needed information.
Unlike out of the box contact management software, Buoy will consistently be upgraded, by continually adding useful features and benefits, and making sure that Buoy continues to make accountants' jobs easier.
Accountants are invited to take a tour at the Buoy website – getbuoy.com – and even try the service free for 14 days.
For more information, contact John Campion at info(at)getbuoy(dot)com or visit http://www.getbuoy.com
###