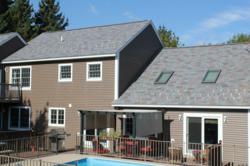 "Enhancing homes with exterior colors is one of the hottest trends in the marketplace right now," said Kate Smith, Owner and President, Sensational Color
KANSAS CITY, KS (PRWEB) January 17, 2012
DaVinci Roofscapes® is offering a free 30-page FRESH Home Exterior Colors downloadable guide online to help homeowners in 2012 select the perfect colors for the exterior of the home. Written by national color expert Kate Smith of Sensational Color, the step-by-step tool is designed to make it easy for people to choose color palates that complement the exterior of the home.
"Enhancing homes with exterior colors is one of the hottest trends in the marketplace right now," says Smith, CMG, CfYH and a career color trend forecaster. "This tutorial provides guidance and tips on understanding your home's exterior features and playing off of them with color accents. The easy-to-read flow of this guide explores how to evaluate which colors should be used on the main features of a home exterior --- including the roof, siding, windows, door and trim."
The comprehensive and colorful online piece was a collaborative effort of Smith and several building product manufacturers, including DaVinci Roofscapes, Simonton Windows®, Therma-Tru® and Fypon®. The free color guide is located on each company's web site, plus on the http://www.sensationalcolor.com/colorforyourhome/ web site developed by Smith.
"We're looking at 'top down' color for the home in this booklet," says Smith. "To understand the colors that work best on a home's exterior, I encourage people to use the FRESH approach, which stands for Fixed features, Regional colors, Environment and surroundings, Style of the home, and Have-to-use colors."
Learning the FRESH Approach

Fixed Features – These are the permanent design elements of the home that need to be considered a constant feature of the house, such as the foundation, partial stone or brick facades, pathways and retaining walls. Each feature may be of a different material, but they usually will have a common color or color cast. Once you identify that common color, you can find a roof tile with a similar color or undertone that will work well for the overall home.
Regional Colors – West Coast? South? Midwest? Each region of the country has prevalent colors based on the housing styles, available materials, natural surroundings and the quality of light. Determine the colors in your area (often those you see a great deal of on other homes) to stick with regional colors.
Environment and Surroundings – Is your home in a rural setting or a downtown? Are you near the waterfront, a desert or a mountain? Temper the colors on your home's exterior to complement your surroundings and the natural colors around you. The goal is to stand out while still fitting in!
Style of the Home – Remember that colors support the home's style and architecture, not the other way around. So, determine your home's style (are you a Ranch? Tudor? Victorian? Art Deco? Greek Revival?) and then do some research online to determine what colors are most associated with your style of home.
Have-to-Use Colors – If you live in a historic district, check for local guidelines and/or restrictions on adding colors to your home. More traditional colors, such as whites, browns, and shades of blue and green, work well on historical homes.
As an example of using the FRESH approach, Smith recently coached homeowners in Arizona to work from the "top down" when selecting new colors and products for a ranch-style home. "After discovering the reddish tint to the stone around the property I first suggested a Sedona blend of colors found in Bellaforté® polymer roofing tiles," says Smith. "This combination of colors includes shades of medium and dark terracotta mixed in with light and dark clay tones to create an earthy color that works perfectly on many homes.
"Over the Roof" Color Options
DaVinci Roofscapes, the color leader in the polymer roofing industry, provides additional color support to homeowners at the online DaVinci Color Studio. An interactive advice component featuring Kate Smith and the ability to create custom roof blends using any of 49 colors are just some of the eye-catching features that allow homeowners to confidently select roofing colors for the home.
"Visitors to the web site at http://davinciroofscapes.com/color-studio.php can upload pictures of their home and gain exterior color guidance from chief color maven Kate Smith," says Wendy Bruch, marketing manager for DaVinci Roofscapes. "We believe the elements of the Color Studio will help homeowners gain both knowledge and understanding about selecting colors for their roof and home exterior. Since color flows 'from the top down' on a house, we are providing guidance, tips and step-by-step advice on how to confidently select the colors for the home's exterior."
"No homeowner should feel locked in to a standard roof color," says Smith "Color selection for a roof can be influenced by the style of the home, the geographic setting or a homeowner's personal style. The 49 different roofing colors and 28 unique roofing color blends that DaVinci offers assures homeowners they can select a roof that beautifully complements their home exterior. And, the DaVinci Color Studio is the perfect online, no-hassles way to make color selections."
DaVinci Roofscapes has manufactured award-winning polymer slate and shake roofing since 1999. The roofing tiles are virtually maintenance free and far more cost effective than the natural product. DaVinci leads the industry in tile thickness, the tile width variety and the greatest selection of subtle earth-toned colors. Company products have a 50-year warranty and are 100 percent recyclable. DaVinci proudly makes its products in America and is a member of the National Association of Home Builders, the Cool Roof Rating Council and the U.S. Green Building Council. For additional information call 1-800-328-4624 or visit http://www.davinciroofscapes.com.
###