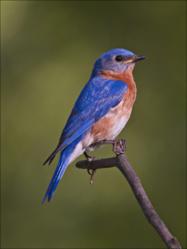 Visitors to the Adorama Learning Center will find valuable tutorials on how to photograph this winter's colorful backyard birds.
Chelsea, New York City, NY (PRWEB) January 05, 2012
One bright note in the deep freeze of Winter is right in your own back yard: songbirds. Set up a bird feeder and cardinals, goldfinches, woodpeckers, and chickadees will flock to it—with Winter providing a clear, leafless view of these tiny visitors' brilliant colors and aerial acrobatics. All that's needed is a good pair of binoculars, or, with amateur photographers, the right gear to capture these Winter wonders. Bird lovers and photographers can learn all about the equipment and techniques of bird photography by visiting the Adorama Learning Center, the educational website of Adorama, one of the nation's leading photography and consumer electronics retailers.
The Adorama Learning Center has created a special online educational package in observance of National Bird Day, January 5. Visitors will find valuable tutorials on how to photograph both backyard birds and the bigger fowl they may find on vacation in warmer places; practical tips on bird photography from some of the top wildlife photographers in the world; magnificent portfolios of bird photographs; and buying guides of affordable equipment that will give them great results.
Once visitors to the Adorama Learning Center have taken in this ample content, the buying guide provides direct links to photographic equipment and supplies, making it easy for bird-loving consumers to explore the technique and equipment involved in photographing birds. Whether they are working with a point-and-shoot or a digital SLR, a simple zoom or a supertelephoto lens, Adorama.com has the gear they need to make stunning pictures of the colorful, fascinating birds to be found in their own back yards.
About Adorama: As one of the nation's largest photo retail and mail order suppliers, Adorama has served amateur and professional photographers for over 35 years. It has recently expanded that service through online photo education and on-site workshops, programs that make it a unique industry resource. Adorama's vast product offerings now encompass home entertainment, mobile computing, and professional audio, while its services include an in-house photo lab and pro equipment rental. Knowledgeable staff and unbeatable pricing make Adorama a one-stop shop for consumers' photo and technology needs.
# # #