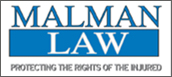 It's not always about making money. Sometimes, it's about doing the right thing.
Chicago, Illinois (PRWEB) January 07, 2012
The slogan of the Chicago-based Law Offices of Steven J. Malman & Associates PC – "Protecting the Rights of the Injured" – always speaks for itself, but it speaks loudest and clearest when attorney Steven Malman and his staff take on pro-bono cases.
The firm doesn't have a specific pro bono division, but "if we can help someone, we do it," its namesake noted. While every client is entitled to Malman Law's "zero fee guarantee" – there's no fee unless and until client compensation is collected – it has been known to offer services gratis to those who need it most.
In 2011, the firm handled more free-of-charge cases than ever before, citing not only the rights but the needs of clients stung by the arrows of the treacherous economy.
"With the recession just beginning to turn around, there are a lot of people out there in serious financial straits," Steven Malman said. "We're always happy to see if we can help them out.
"We don't always do it; it depends on the case," he added. "But the truth is, current and former clients tend to call us with various personal injury-related questions and other matters, and even if it's something we don't normally handle, we're happy to see what we can do."
In addition to lending cost-free assistance on various personal injury cases, the firm took on or referenced numerous pro bono cases in 2011, ranging from criminal defense to immigration to eviction and bankruptcy issues. Each case was thoroughly reviewed by Steven Malman or one of the other seven attorneys in his firm, and if it was determined that a potential client was truly indigent – and the firm could do something about his or her problem – Malman Law took the case without earning a fee.
"We do a lot of stuff without even thinking about," he said. "A little casework here, a piece of advice there, some investing work if we can. We review pro bono cases individually, and if there appears to be a need or a wrong we can correct, we'll do our best to resolve the problem on a pro bono basis.
"Looking back at 2011, I'm gratified by how often we were able to help someone," Steven Malman added. "It was a very busy year for us in regards to pro bono work, and that's fine. It's not always about making money. Sometimes, it's about doing the right thing."
About Malman Law
A graduate of the University of Iowa and the School of Law at Loyola University-Chicago, attorney Steven J. Malman celebrated his 20th year of practice in November 2011. Since the Law Offices of Steven Malman & Associates PC launched in 1994 (with just Malman, one secretary and one assistant), the firm has grown to include seven attorneys and over a dozen paralegals and support staff, and has successfully resolved over 8,000 cases, primarily in the areas of workers' compensation and personal injury. With 95 percent of its cases settled out of court and numerous seven-digit personal injury verdicts to its credit, the firm is one the most successful serving Illinois' Cook, Lake, Dupage and Will counties.
# # #