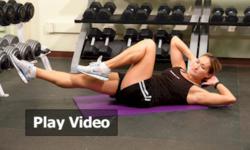 We have implemented several innovative website features that have never been seen before.
Phoenix, AZ (PRWEB) January 18, 2012
Workoutz.com has re-launched its website with several upgrades including two new workout generators. Workoutz.com gives its visitors the ability to see exactly how to perform any exercise imaginable through free exercise video demonstrations. The website also features step-by-step photos, as well as written instructions from fitness professionals.
"The new and improved Workoutz.com took over a year to complete," founder Justin Leonard explains. "We have implemented several innovative website features that have never been seen before."
The new workout generators will include the regular version, intended for those just getting started, and the professional version for experts in the fitness field.
The regular generator is an automated wizard that guides the user through a personalized workout program. It measures exercise frequency, intensity, time, and type based on the user's questionnaire answers. This is suitable for all fitness levels: beginner, intermediate, or advanced. The regular version also has the ability to save workouts, edit workouts, view workout history, print, and more.
The professional generator is a robust, feature-rich workout builder intended for fitness and health professionals. It allows the expert to create customized workouts for clients using the workoutz.com exercise database. Specific to the client, it will store exercises, sets, repetitions/durations and other custom fields. The professional version has the ability to store client profiles and workouts, email workouts, create templates and a calendar.
Each is 100 percent free; no credit card is required. Users can download any exercise video to their computer or smartphone at no cost. Free workouts and instruction manuals are also available for print.
In the past, Workoutz.com has uploaded its own professionally edited videos, but the new website will allow users to upload their own videos as well. For example, customers can upload homemade videos and post them on Workoutz.com for others to see.
Exercise videos cover a range of workouts including target exercises, Yoga and kettlebell training. Each video also pinpoints the target area and difficulty level for amateurs and professionals alike.
To get started with that New Year's resolution, visit http://www.workoutz.com.
About Workoutz.com
Launched in August 2007, workoutz.com was created with the aim of becoming the premier source for exercise video content. The website features hundreds of high definition fitness videos in categories that include aerobics, strength, yoga, sports conditioning, stretching, and more. All exercise descriptions are written by certified fitness professions with college degrees. The website is used by a number of organizations including Division I colleges, fortune 500 companies, professional sports teams, the US military, fitness trainers, and celebrities.
Gina Davis
1-888-660-6517
gina782000(at)yahoo(dot)com
###