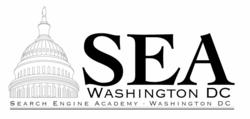 "This is a slimmed down version of our popular two day basic SEO workshop that gives anyone all the basic skills to begin optimizing their websites."
Washington DC (PRWEB) January 10, 2012
Search Engine Academy Washington DC's Small Business SEO training package is being offered again for 2012 in the Washington DC region.
This course was developed in response to reaction from many small business owners and self employed individuals when Nancy E. Wigal, the owner and operator of Search Engine Academy Washington DC, would attend business networking events and describe the academy's courses.
Because most small business owners can't be away from their business for more than a day, as much as they may want more training on anything that will give their business more visibility, particularly online, this SEO training option is appealing.
"This is a slimmed down version of our popular two day basic SEO workshop that gives anyone all the basic skills to begin optimizing their websites. What is not included are the group exercises, which while are very valuable, can be skipped," according to Nancy.
"I had good success offering this compacted SEO course in 2011. Self employed people and small business owners have a very hard time breaking away from their work for more than one day. This way, they get basic, organic SEO skills and knowledge that they can put to use immediately," said Nancy.
SEA DC's small business SEO training is available both on demand and is regularly scheduled throughout 2012. Nancy stated, "I have a lot of flexibility in offering this one day course. I can do one on one training sessions with clients, or I can throw out a date and location, and post it widely on the internet. Either way, it's a win-win for the business owners in the Washington DC region."
Attendees can choose to receive their training on site at their location or in training facilities throughout Washington DC, Maryland and Northern Virginia.
"Whatever I can do to make it easy to deliver the training is what I tell folks. My goal is schedule their training as quickly as possible, with minimal disruption and impact on their schedule. I've done Saturday training sessions," said Nancy.
SEA DC delivers the training face to face. There is lecture combined with interactive exercises to allow for practice time. Attendees may also get a complimentary website analysis at the end of the day to pinpoint problem areas to be optimized immediately upon completion of the course.
Among the topics covered during the day long SEO training is keyword research, writing optimized content, optimizing sites for local and mobile search as well as linking strategies and more. "It's a busy day. I want to give business owners their moneys' worth, and everything they learn, they can start applying the next day," Nancy stated.
Any business owner with a website that isn't getting enough visibility or showing up high in search results can benefit from attending this one day small business SEO training course. By applying SEO processes and techniques to their websites, they can increase the amount of traffic to their site and get the target market their business offerings appeal to, which will improve conversion rates.
Attendees should bring a laptop to class that is capable of accessing the internet, as well as access to either their content management system or web creation software, since there will be an opportunity to quickly practice their new SEO skills and knowledge.
All course materials are provided and each attendee gets six months SEO mentoring free of charge.
Nancy discovered that many business owners were cautious about investing time and money into training if they weren't certain of actually making SEO work for their websites. SEA already offers the six months' mentoring for anyone who successfully completes a two, three or five day SEO training and certification course. "This was a huge benefit that convinced a large number of folks to take the training. As I tell people, we don't just train you and walk away. We want to make sure you are confident and accurate in applying your new SEO knowledge and skills to your own website for the best chances of success," Nancy said.
SEA DC is part of Search Engine Academy. There are SEO training academies in the U.S., Canada, Malaysia and Australia. Search Engine Academy was co-founded by Robin Nobles and John Alexander, SEO experts and consultants.
###