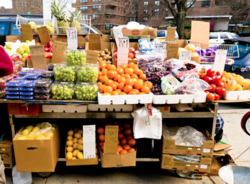 Atlanta, GA (PRWEB) January 06, 2012
The new Community Action Guide: Changing Food Deserts into Food Oases is intended to help communities increase access to healthy and affordable foods. According to the Centers for Disease Control and Prevention "Food deserts are areas that lack access to affordable fruits, vegetables, whole grains, low-fat milk, and other items that make up the full range of a healthy diet."
Areas with limited access to affordable and nutritious foods are often located in lower income neighborhoods and are also commonly referred to as food swamps since in addition to lacking nutritious foods these areas are often filled with foods high in salt, fat and sugar. People living in food desert or swamp communities are at much greater risk for negative health outcomes including diabetes, cancer, and heart disease.
The Guide features the most current research and tools to measure and collect data on food deserts, identify partners, and take action through policy development and community solutions. Success stories and community examples in the Guide demonstrate strategies that have been used across the country to combat this serious problem.
Established in 2005 the National Association of Chronic Disease Director's (NACDD) Health Equity Council is committed to improving the nation's health by identifying issues that make it difficult to close the gaps in health status. The Council strives to increase the capacity of the public health workforce to eliminate health inequities by identifying actionable strategies while providing leadership, expertise, training, resources, and technical assistance.
For more information about this topic, the Health Equity Council, or to obtain a copy of the Community Action Guide please visit http://www.chronicdisease.org/nacdd-initiatives/health-equity or contact Gail Brandt at gbrandt(at)chronicdisease(dot)org
The guide will be updated periodically as new resources and information become available on addressing food deserts in communities. The Council would appreciate if you would please send any resources to include or ideas to improve the guide to the above address.
###