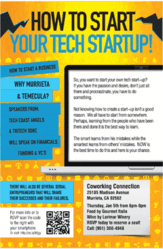 Any entrepreneur that is looking to start a company in 2012 should attend this event
Temecula/Murrieta, California (PRWEB) January 04, 2012
On January 5, 2012, a special event for technology entrepreneurs will be hosted by the cities of Temecula and Murrieta, along with the Temecula Valley Software Developers Group. The event is focused on how to start a technology company, and speakers include representatives of SCORE, Tritech SBDC, the Tech Coast Angels, as well as entrepreneurs who have lived the dream.
The event is being held at Murrieta's Coworking Connection, located at 25185 Madison Avenue, Suite A. It begins at 6 p.m. and is scheduled to end at 9 p.m. This informative and interactive event is intended to provide a lift to aspiring entrepreneurs in the Temecula Valley by providing key information and access to resources so that they can begin building their own tech company.
Topics include: "How to Successfully Sell in the App Store," "How the Twin Cities Can Help You," "How to Start a Business in California," "Getting Funding," and will also feature success stories from local entrepreneurs.
Interested entrepreneurs are encouraged to RSVP to event organizers by visiting Eventbrite and obtaining a ticket to the event, as availability is limited.
About Redtail Advisors
Redtail Advisors is a business consulting and exit planning advisory that helps private companies build value and prepare for ownership transitions. The company utilizes a proprietary technology, Value Creation Insights, to provide deep insight into the business operations and processes of their clients, and works with management to produce an execution roadmap that improves business value and paves the way to a smooth transition. More information can be found at http://www.redtailadvisors.com.
# # #