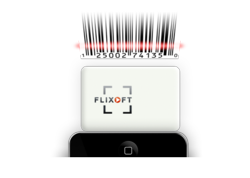 Camera based barcode scanners have performance limitations. We overcame that with a separate iOS attachment.
Miami, FL (PRWEB) January 06, 2012
Flixoft, Inc., the developer of the hugely popular and successful Grocery Gadget has announced the pre-order availability of the Barcode Gadget, a compact, high-speed bar code scanner compatible with all iOS devices (iPhone, iPod, iPad). When combined with the customer's application software the Barcode Gadget can be utilized for inventory scanning, portable Point-of-Sale transactions, order fulfillment, mobile ticketing and many other applications. Available February 2012, the MFI compatible Gadget will include a Software Development Kit (SDK) and a sample application to enable companies to quickly integrate with their own application.
As Apple handheld devices become increasingly more popular in the business work space, the need to increase their functionality through the addition of attachable hardware has grown. One of the biggest demands has been in the area of barcode scanning hardware. To answer this demand, Flixoft engineered an affordable yet robust hardware solution to allow businesses to quickly and economically adapt their Apple handheld devices to replace costly and inflexible legacy solutions. Many users of the flagship Grocery Gadget solution are businesses whose scanning speed requirements are far beyond the already highly optimized camera-based barcode scanners. That pushed Flixoft to develop an iOS compatible hardware barcode scanner attachment that can be used not only in its software, but also built-into any third-party iOS (iPhone, iPod, iPad) solutions like POS or Inventory Tracking, to name a few.
About the Company
Flixoft, Inc. is a U.S. developer of cloud-based smart phone solutions including the top-selling productivity application, Grocery Gadget®. Grocery Gadgets offers a unique sync technology between multiple smart phones, and through its web-based portal integration platform.
# # #