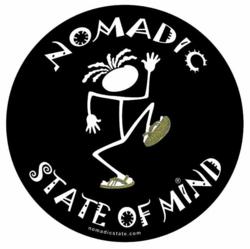 Fayetteville, NC (PRWEB) January 04, 2012
Nomadic State of Mind will be showing off their goods in January
For some 2012 marks the end of civilization, but Nomadic thinks the Mayans just ran out of room on the calendar, or hopes so at least.  So instead of digging out a cave to live in, they are continuing business as usual - or as unusual, as they may be. This month marks the beginning of trade show season for Nomadic State of Mind and they will be kicking it off in style at Surf Expo in Orlando, FL on January 12 through the 14th, followed by Outdoor Retailer in Salt Lake City, UT on January 19th through the 22nd.
Nomadic has been a regular exhibitor at Surf Expo for almost 10 years and is looking forward to another great year.  While they are there mostly for business the Nomadic team enjoys seeing the changing styles and exciting new toys that come along with the event.  Last year they particularly enjoyed the 80's flashback skate competition featuring many icons of the skate world such as Tony Hawk and Christian Hosoi.  This year Nomadic will be showcasing their traditional rope sandals at booth 2937 along with a variety of new products for the spring season including a new sandal line, apparel, and jewelry.    
Outdoor Retailer is a fairly new event for Nomadic State of Mind with only one previous appearance.  While Nomadic does not fit in with the traditional companies at the winter event, not too many people snowboard in sandals, Nomadic anticipates another successful year.  Many companies are still filling in their summer orders and Nomadic State of Mind's unique products stand out to buyers looking for just that. This year they can be found at booth 6.
About Nomadic State of Mind
Nomadic State of Mind was founded (its a good thing Chris finally found it, he had been driving aimlessly around the planet for years- then he looked behind a tree and found Nomadic State of Mind) nearly ten years ago and is based in North Carolina.  Manufacturing takes place both in Florida and in Nicaragua where the company has helped support a small community for the past eight years.  Nomadic has always believed in positive contributions to the world around them is committed to remaining true to their roots.  For more information or additional art work please contact Chris Anderson or Shea McNally at 877-666-2376 or at nomadicstate.com.
###