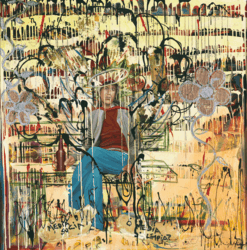 "We will utilize the team from UNIX to diversify the gallery, broadening its exposure and welcoming new collectors and art admirers from around the world," said Paredes.
Miami, FL (PRWEB) January 05, 2012
Second Saturday Artwalk, January 14th To Feature Max Wiedemann & Cope2 at the Wynwood Gallery Space
173 NW 23rd Street, Miami
Miguel Paredes, a local and internationally celebrated artist, has announced plans for his space in Wynwood to be curated by UNIX Fine Art, a leading London based group of art dealers. Over the next several months, Alex Cesaria of UNIX will showcase a rotating series of artists, in addition to curating and representing Paredes' new ventures.
Cesaria has made a name for himself through his involvement in art fairs around the world and secondary market of fine art dealing, including London's International Fine Art Fair (LIAF), New York's Armory Avenue shows, SCOPE Miami and Art Basel. UNIX currently deals with renowned and established artists such as Andy Warhol, Keith Haring, Roy Lichtenstein, Damien Hirst, Os Gemeos, Peter Anton, Max Wiedemann, Shepard Fairey, Miguel Correa, Alex Guofeng Cao, Zhong Biao, Chen Man and many others.
"We will utilize the team from UNIX to diversify the gallery, broadening its exposure and welcoming new collectors and art admirers from around the world," said Paredes. "By having Alex showcase other artists, in addition to my collection, we ensure a unique experience for our guests each time they visit.
"Unix is presenting and introducing today what the great world of art will be tomorrow. We've been observing and following Miguel's work and are thrilled to be able to introduce him to our group of collectors," said Cesaria. "Miguel Paredes, as an artist, his collection, and his space in Wynwood, have the energy and excitement that collectors come to Miami looking for, and we're honored to be a part of that in 2012."
This month's upcoming Wynwood 'Second Saturday's Art Walk' event will be the launch of the UNIX and Paredes collaboration. In addition to Paredes' original works, the 6,000 sq. foot gallery will welcome celebrated graffiti street artist Cope2 and UK artist Max Wiedemann, best known for his perfection of spray painting and high life celebration.
About Miguel Paredes
Paredes, a New York native, is an Urban Realist who combines the cutting-edge techniques of street art, pop art and Japanese animation to create his own genre of trend-forward pieces. His combination of street graffiti, landscape and pop art have propelled his crossover from street walls, during his days as a student at the prestigious Fiorello LaGuardia High School of Music and Art in the '80s, to becoming a highly regarded creator of greatly transcended art; praised and cherished by collectors from Los Angeles, New York, to Seoul and London.
As a judge in the 2011 Bombay Sapphire® Artisan Series, Paredes supported the efforts of Bombay Sapphire® Russell & Danny Simmons' Rush Philanthropic Arts Foundation and Complex Media to launch a nationwide search to identify the finest undiscovered talent in the field of visual arts. Paredes was named the official artist of the 12th Annual Latin GRAMMY® Awards. The Latin Recording Academy® announced that he received the highly acclaimed honor of being the commissioned artist to create the official artwork for the 2011 awards.
Paredes has also signed on with ACME Archives to create custom artwork for Disney Underground, which celebrates the interpretations of a new generation of visual artists stemming from the urban underground pop art movement. Chris Jackson, Acme's Director of Creative Affairs and Product Development notes, "Miguel's inspired take on the urban-pop movement makes him a perfect fit for Acme's Disney Underground line." Mr. Paredes' Disney work is showcased among the top tier of Acme's licensed art in galleries worldwide including the new Acme Gallery at FAO Schwartz Fifth Ave in New York.
Paredes is well known for his iconic, Japanese anime-inspired digital series Pulgha™ & Birds. William Morris Endeavor has signed on to represent the Pulgha™ collection to develop a branded cartoon series as well as other licensing opportunities for Paredes' designs and products. An additional animated sitcom, "The Wheelies" is under development. The show bases much of its humor on parodying American pop culture, politics and the human condition. It is represented by the Revolutus Agency.
Paredes is breaking new ground in exciting and innovative art movements. He continues to make his mark by further expanding his inspirational environment and simultaneously showcasing his works at local, national and international shows. In 2012, Paredes has upcoming exhibitions planned in London, China, and Seoul. Korea.
About Cope2
Cope2 is an American artist of Puerto Rican decent. Born in 1968, New York City native Cope2's paintings have been exhibited in solo and group exhibitions in galleries and auctions throughout the United States and abroad. He is a self-taught artist who is a celebrated figure for over 30 years in the graffiti art culture. One of New York City's most legendary prolific graffiti artists, he began tagging his name in the South Bronx in 1978. He developed his style in the subways and streets of the Bronx creating graffiti productions throughout the 1980's and 1990's achieving international recognition for his distinctive style. In recent years Cope2 has been commissioned by Time Magazine, Converse and designed a full collection for Adidas. He has worked with Steiner Sports collaborating with the New York Yankees' Derek Jeter producing graffiti on memorabilia. His work has even crossed into the virtual realm with appearances in video games such as Mark Ecko's: Getting up and Rockstar Games: Grand Theft Auto IV.
About Max Wiedemann
Graffiti artist Maximilian Wiedemann's work explores the dependent relationship between pop culture, media and consumerism. His sense of humor is perfect for our ambiguous times, with quotes such as 'Closer to God in Heels' and 'The better you look, the more you see'. Picking up the heels where the bourgeoisie stopped, Wiedemann has continued the quest into the lifestyle of the rich and famous. He takes something iconic and turns it upside down.
Never having seen the inside of an art academy, Wiedemann's roots lie in the urban landscape, which he then traded in for the blank canvas. On his journey he perfected the skill of spray can art and developed a range of techniques, allowing him to capture and express the strong accent of urban art in a new context.
Wiedemann's art revolves around people's identity and their evolution. He plays with the game of hype, having a little fun with sensationalism and seduction. His sarcasm is shown through bright happy colors and clean, delicate lines. Wiedemann has a tremendous gift by taking the simplicity of street art, creating a new sense of appeal and bringing this to a distinguished and modern level.
Wiedemann has been exhibiting and curating both collective and individual shows throughout Europe since 1999 and is represented in various collections around the world. He lives and works in West London, where he creates his personal art and commissioned portraits.
Contact:
James Goll
917.626.4769
JG(at)24-Group(dot)com
###