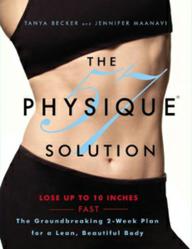 "It takes a lot to motivate me to exercise but Physique 57 is the ideal workout, it's efficient, fun and targeted to get the results you didn't think were possible!"
-Demi Moore
New York, NY (PRWEB) January 05, 2012
What if you could achieve your best body in two weeks? That's all you need to drop pounds, lose inches and get gorgeous.
Available in book stores nationwide, THE PHYSIQUE 57 SOLUTION®: The Groundbreaking 2-Week Plan for a Lean, Beautiful Body combines the groundbreaking Physique 57 workout routines with an effective meal plan to create a two-week program for losing up to 10 inches and dropping pounds quickly.
With THE PHYSIQUE 57 SOLUTION, you will:

Boost your fitness and weight loss results by following our 2-week meal plan filled with delicious recipes for breakfast, lunch, dinner and dessert.
Perfect your Physique 57 workout by following our step-by-step, calorie-burning 57-minute workouts which include muscle defining arm exercises, intense seat and thigh sequences, and waist-chiseling ab moves. Pictures and narratives of each part of the workout will ensure you maintain proper form throughout!
Learn the story behind the inspiration for Physique 57- read how co-founders Tanya Becker and Jennifer Maanavi started this revolutionary fitness formula five years ago.
Understand the science behind Tanya and Jennifer's proven formula of interval strength training, isometric exercises and orthopedic stretches to systematically lengthen and sculpt your muscles.
Get inspired with tips to help you stay motivated and achieve your goals long after you've finished reading our book.
Get the body you've always wanted with THE PHYSIQUE 57 SOLUTION.
Since its launch in 2006, Physique 57 has experienced rapid customer growth and now owns and operates five studios; three in New York City, one in Los Angeles, and one in the Hamptons. The smashing success of the studios' fitness classes, amazing client results and numerous unsolicited celebrity endorsements, helped spread the word that Physique 57 is groundbreaking. In June 2009, Physique 57 launched its first workout DVD Series to bring the method into the homes of people around the world. 2010 was marked by growth in all aspects of the company, including partnerships with Canyon Ranch, One and Only Resorts, QVC and Plus One Health Management and the release of the highly anticipated exercise DVDs "Physique 57 DVD Workout Series Volume 2. "
For more information on Physique 57, please visit the website at http://www.physique57.com.
For all press inquiries, please contact Elizabeth Lampert Ballin at elampert(at)physique57(dot)com.
# # #