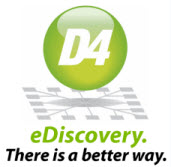 Rochester, NY (PRWEB) January 05, 2012
D4, the nationally-recognized leader in litigation support for corporate counsel and law firms, today unveiled its top four predictions for eDiscovery in 2012. Based on insight from industry experts and current trends in litigation support, the expanded article can be viewed here; http://www.d4discovery.com/knowledge-center/.
D4's Top 4 eDiscovery Predictions for 2012 include:
1. Social Media– The ESI Frontier
Courts are allowing opposing parties unfettered access to social media accounts and plaintiffs' counsel are finding themselves in unchartered territory. This is just the beginning and 2012 will see even more cases involving social media and decisions regarding preservation, disclosure and access to that information.
2. Technology Assisted Review (also known as Predictive Coding)
Technology Assisted Review (TAR) will become more commonly used in 2012. There are different TAR approaches (i.e. Predictive Coding, Relativity Assisted Review, Intelligent Categorization), each slightly different with their unique advantages and benefits, but they all combine human intelligence with machine efficacy to reduce costs.
3. eDiscovery Costs Become More Predictable
In 2012, predictable eDiscovery costs will achieve prominence. Law firms and corporate law departments will increasingly ask their litigation support providers to offer flat rates for projects, and they will ask for annual pricing for a given level of volume and service. Providers who can do this will succeed and others will have to step up.
4. Integration of Review with Analysis and Selection
In 2012, more of the EDRM workflow will coalesce into single and integrated operation. Advanced technologies will allow us to do more identification, analysis, selection, review and processing in a single step, or on a single platform.
D4 is the nationally-recognized leader in litigation support and eDiscovery services to law firms and corporate law departments. D4 is listed on Inc. magazine's fifth annual Inc. 500|5000 list as one of the nation's fastest growing private companies.
Founded in 1997, and through its combination and rebranding with Doculegal, D4 covers the full spectrum of the Electronic Discovery Reference Model (EDRM) and provides accurate, reliable, defensible data extraction on a wide range of ESI. D4 resells, supports, and provides training for all the leading eDiscovery applications. And with nearly 100 staff, D4 offers full-service locations in Rochester, Buffalo, Tampa, Lincoln, Omaha, New York City, Grand Rapids, and San Jose. In addition, D4 fields consultants and project managers from Los Angeles, Colorado, Rhode Island, Michigan, and Washington DC. State-of-the-art data center operations in Rochester are complemented by electronic discovery and litigation support paper document services throughout the United States.
With its broad range of flexible, scalable solutions backed by the most experienced eDiscovery team in the industry, D4 is uniquely qualified to be your strategic eDiscovery partner.
# # #