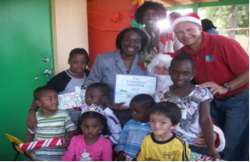 We Sell Luxury!
Miami, FL (PRWEB) January 05, 2012
The New Year celebrations were about refreshments and live entertainment; Mario Carey Realty in Nassau, Bahamas wishes everyone a new year and invites for an open house, Villa Venetia. If you're in the Bahamas or want to make a trip to the Bahamas on January 6, 2012, the address to stop by is: #16 Northshore Terrace, Ocean Club Estates.
For fourteen years, top Realtor and CEO, Mario Carey has made a special "Carey Christmas" tradition by giving back to the community and in particular a group of kids at the Center for the Deaf. Every December, the Carey family looks forward to participating in the Christmas festivities with the children at the Center who have made an impact on their lives over the years. One can only look at the joy shown on the many faces of the children at the Center when the Careys visit to know that the feeling is mutual.
"The Christmas season always presents a time for giving and I can't think of a better way to commemorate the season than taking time out sharing in the celebration with the kids. My family and I consider it a treat and this is the first year my 14 year old son Cole isn't here because it is something he looks forward to being a part of every year" said Carey.
Each year, Carey makes sure to make it better than ever for the kids and leave them with a memory to last a lifetime. This year he brought Santa to the delight of the kids, many of whom leapt out of their seats at the sight of Santa with his bag of toys. Moments later they all gathered around with beaming faces and lots of anticipation for what Santa had in store for them.
The children, whose ages range from four years to 19 years sang Christmas carols along with Carey and had much to be thankful for as they expressed their sincerest appreciation to him for the presents they received as they signed words of love and admiration. With Christmas stocking cap adorned on his head and a bag filled with surprises, in this moment Carey; who has been known as the "Super Salesman" of real estate and champion of causes like Autism Awareness and sponsoring youth groups like boxing and t-ball, is known as the man whose consistent kindness has no boundaries.
"It is also important to remember that in tough times like these we should all give back. There's something special about what a gift can do in a person's life whether it's a child or adult and there's no better time than the Christmas season."
###