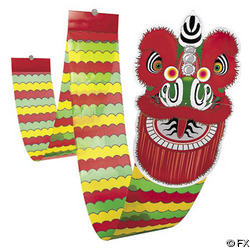 "First time customers who use their chat system will receive 5% off their purchase."
Easton, PA (PRWEB) January 07, 2012
In light of the Year of the Dragon online retailer, Asian Ideas, is selling party supplies and dragon accessories for New Years celebrations on January 1st and January 23rd. To further spread their holiday spirit, first time customers who use their chat system will receive a 5% off discount on their purchase.
This upcoming New Year, Chinese families will look to conceive intelligent and motivated 'dragon babies.' Imperial creature and symbol of the yin and yang, the dragon is most powerful in Chinese culture. Its mythical shape encompasses the features of nine animals, each of which contribute to its association with good luck.
Babies born under the sign of the dragon are said to be highly successful as they grow into their careers. They are naturally ambitious, confident and innovative. In the last dragon year of 2000, the Republic of China saw an 8.1% increase since the previous year. Similar increases were seen in other Asian countries that year, especially Taiwan and Singapore.
Expected to rise again this year, New Years parties will be vital in welcoming the revered dragon and the new life he will bring in 2012.
To properly welcome the dragon, Asian ideas recommends hanging dragon décor on the ceiling for guests to admire from below. Dragon centerpieces also provide a nice accent on party tables.
Offering a large selection of party favors, the company suggests neatly arranging items in a fancy take-out box. A mini dragon figurine will complement the box and spread the luck of the dragon well past the Chinese New Year.
Asian Ideas also offers versatile party supplies that can be used during any New Years party. Paper lanterns are a favorite amongst customers as they make for a delicate backdrop. White paper lanterns are especially beautiful for a January 1st New Year. Lanterns can also be complemented with bamboo table centerpieces.
The Year of the Dragon begins on January 23rd, though Asian Ideas will be selling party supplies well before then. January 1st celebrators will also host their parties using Asian Ideas products. Regardless of what holiday is being celebrated, first time customers who use their chat system will receive 5% off their purchase.
About Asian Ideas
Asian Ideas is the premiere website for Chinese, Japanese and Asian goods. The company offers a wide range of items from their boutique of gifts and handcrafted merchandise, each of which are specially selected to reflect thousands of years of Asian history and culture. With a timeless quality, Asian Ideas wares and gifts last as long as the sentiment does. The company commits itself to providing personalized online assistance with its first-rate customer service and care.
###