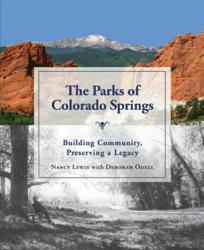 Only through out continued vigilance and advocacy will our parks endure for future generations.

Don Henley, recording artist and founder of the Walden Woods Project
Dallas, Texas (PRWEB) January 17, 2012
"The Parks of Colorado Springs: Building Community, Preserving a Legacy"(Brown Books Publishing Group) by author Nancy Lewis, president of The Garden of the Gods Visitors and Nature Center and president of the Garden of the Gods Foundation, pays tribute to General William Jackson Palmer, the visionary behind the parks' system. She tells a story of civic commitment, community aspiration, and the challenges of growth and change.
"By chronicling the vision and legacy of those who were instrumental in the creation of the Colorado Springs parks, Nancy Lewis affirms our increasingly important role as stewards of our public lands. Only through our continued vigilance and advocacy will our parks endure for future generations," says Don Henley, recording artist and founder of the Walden Woods Project and the Caddo Lake Institute.
After 27 years with the Colorado Springs Parks and Recreation Department, Lewis felt it was vital to bring awareness to the history behind the parks' beginnings, their grandeur and how they once served as the center of social activity.
In "The Parks of Colorado Springs" Lewis weaves a telling story to emphasize their impact on our lives, laying out a clear picture of how things came to be, the problems they are facing to day, and the importance of maintaining them for future generations to come.
Through stories and never-before-seen photographs, Lewis tells the tale of growth, success, challenges and disappointments that Colorado Springs has seen since its inception. The urban movement that took place in the latter half of the 19th century was one that General Palmer was not going to let slip by.
He founded the Denver and Rio Grande Railroad in 1870, and in 1871, he created the Colorado Springs Company, a firm to establish the town of Colorado Springs.
Essential to Palmer's plan was establishing an interconnected park system so grandiose it rivaled such storied places as Versailles and Fontainebleau — a park system to serve as vessel of community, involvement, discovery and nature — while also creating the most attractive place in the West for homes, schools, colleges, literature and first-class newspapers.
Today, 140 years after General Palmer's grand vision first emerged, the national park system continues to be a place of solace and relaxation, a place to reconnect with the magic of nature. However, "Recent years have put our parks in jeopardy and Nancy Lewis's book shows us why we must preserve this legacy given us by so many," says Katherine Loo, award-winning philanthropist and conservationist.
Lewis states, "I believe if you are going to live in a community, you have to be a part of it. Giving back is the balance to taking. Our park system is a treasure that we were given, that we enjoyed, that we grew, that we now see passing into the future. We are responsible for seeing that well done."
To learn more visit: http://www.TheParksOfColoradoSprings.com
# # #